Where spectacular views and top-notch facilities are part and parcel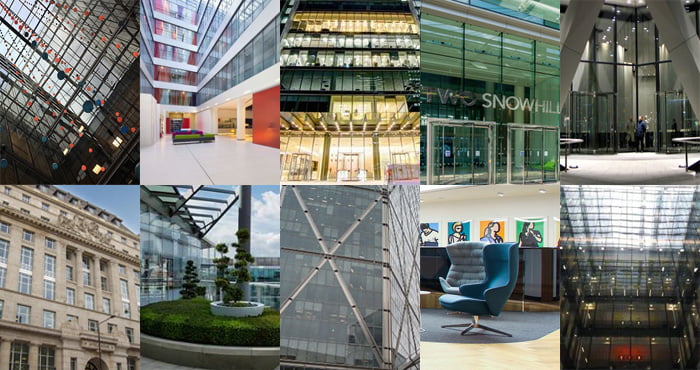 One of many perks presented to City lawyers is the spectacular offices in which they spend most of their day. Some are located in iconic buildings, while others boast features so extravagant that it's easy to forget they house corporate firms.
We put forward the question 'How functional, comfortable and impressive is your workplace?' to more than 2,000 trainees and junior lawyers at 60 of the country's leading corporate law firms, as part of this year's Legal Cheek Trainee and Junior Lawyer Survey. Respondents then rated their places of work on a sliding scale of one to ten — with one defined as 'Pentonville Prison bleak', and ten as 'global elite chic'.
The results are in! Ten firms secured our highest A* ranking. Here is the shortlist, listed alphabetically, for the most impressive law firm office of 2018.
Allen & Overy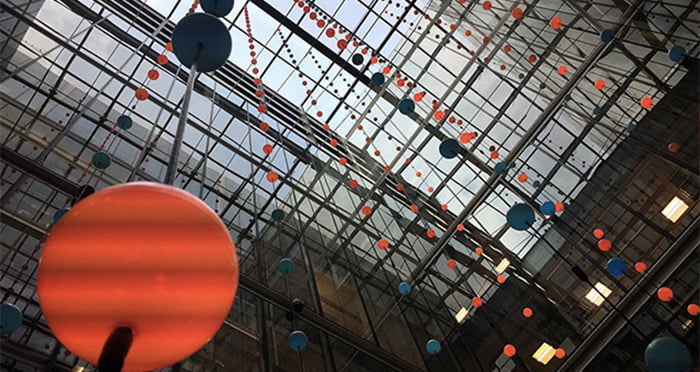 A short walk from the hustle and bustle of Liverpool Street station, Allen & Overy's London office stands proud at Bishops Square — bridging the City and the East End.
Set in the heart of Spitalfields Market, trainees can bask in the aromatic scent that wafts from traditional restaurants at their doorstop, or peruse the various shops and boutique stalls on their way.
Lawyers step inside the London office after deciding which of the three fancy entrances they wish to grace that day. Once indoors, "the building is generally quite nice," says one trainee. And rightly so — if you look high enough you'll find three stunning roof terraces overlooking the plaza below, where you might see a handful of trainees mingling and enjoying a BBQ on a late summer's afternoon.
On a late night, you might catch these Allen & Overy trainees in the magic circle firm's bar. Or, perhaps, at the in-house lavender gardens, relaxing after closing a particularly arduous deal.
Read Allen & Overy's full firm profile, including The Legal Cheek View and Insider Scorecard.
Burges Salmon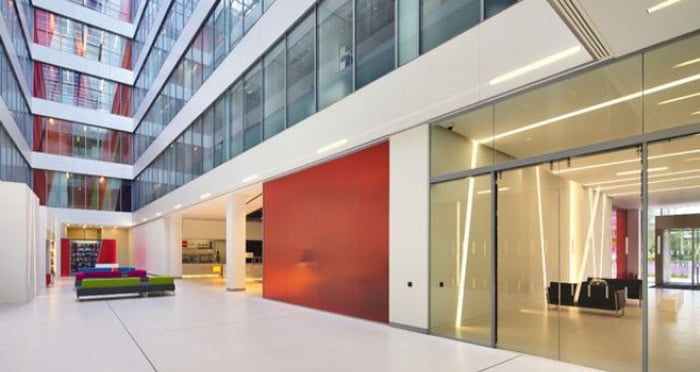 Though Burges Salmon offers its trainees, of which there about approximately 30 a year, City of London-level work, its main office is in Bristol.
Bristol is a city renowned for its coolness and chilled out vibes — i.e. it's nothing like the Big Smoke. It does, however, have a commercial district, the vibes of which bear some resemblance to its London counterpart. This is where law firm offices including TLT and Osborne Clarke also live.
As for Burges Salmon's office, this is nestled on the river and is just a couple of minutes from Temple Meads station — Bristol's biggest. This makes it a great location for the firm's lawyers who need to whizz into London (where the firm has a smaller office): the journey takes just under two hours. The office is "very snazzy" remarks one trainee colloquially; it's "modern" with "great amenities". Perhaps a nod to the natural light-bathed atrium set around the office. How idyllic!
Read Burges Salmon's full firm profile, including The Legal Cheek View and Insider Scorecard.
Clifford Chance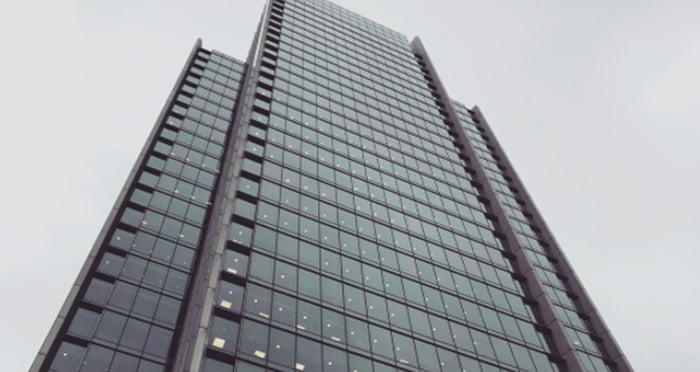 One of few law firms to hold the banking-dominated E14 Canary Wharf postcode, Clifford Chance's London office is understandably very plush.
Not only is Clifford Chance famously the only firm in London to boast a 20×18 metre swimming pool, or any sized swimming pool for that matter, there's a whole host of other facilities that will likely have aspiring lawyers salivating. Health centre? Check. Gym? Check. Squash courts? Check. Heck, even a games room! You name it, this magic circle firm has got it. And it's recently been refurbished. Small wonder some of the firm's trainees cite 10 Upper Bank Street as the "best legal office in London".
"I share my office with just one other person" says one trainee, "and I even have the benefit of a corner office with a partner." In a firm that has everything its trainees would want, including an A-rated canteen, one insider could only find one very small criticism to make: "The new black panelling does look a bit Darth Vader-y!"
Read Clifford Chance's full firm profile, including The Legal Cheek View and Insider Scorecard.
Gowling WLG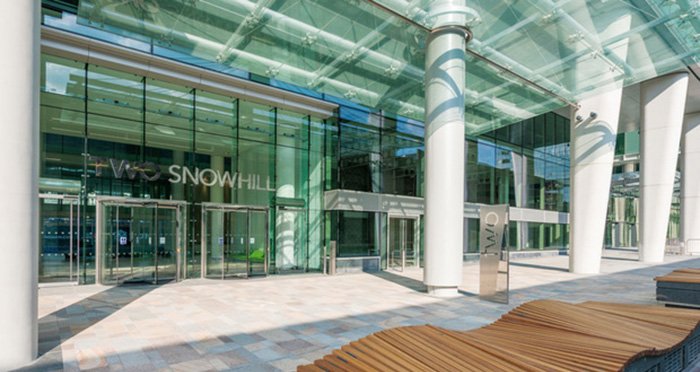 Gowling WLG has bases in two of the UK's busiest cities: Birmingham and London. These offices have been referred to as "beautiful" by the firm's trainees and rookie lawyers. They're "nice" and "clean" which makes for a pleasant working environment, one trainee tells us, and there are even "teams working exclusively to improve the workability of break-out areas". What's more they have "really, really good" canteens, with "loads of choice".
Location-wise Gowling's Birmingham headquarters can be found in Snow Hill, in the city centre. Its London office isn't City City but is on the riverside and takes just ten minutes to walk to London Bridge. There are a few other big corporate names over that way too, Norton Rose Fulbright and Womble Bond Dickinson included. If ever you visit and are confused by the flock of tourists surrounding the building, no they're not on a corporate law tour of London: Gowling is just seconds from City Hall's front door.
Read Gowling WLG's full firm profile, including The Legal Cheek View and Insider Scorecard.
Kirkland & Ellis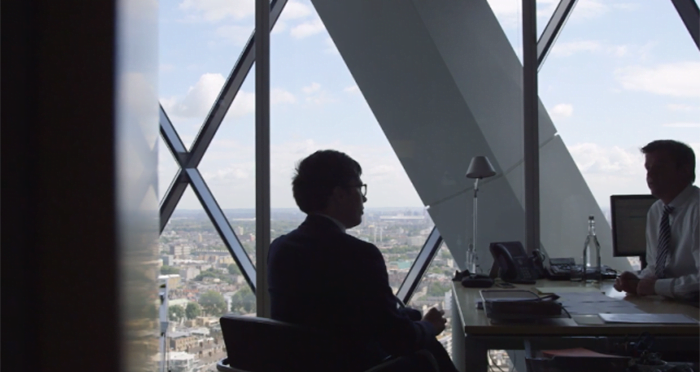 Kirkland & Ellis' A* office score comes as no surprise. If there is one particular adjective that frequently crops up among this bunch of lucky lawyers when describing their workplace then it's "amazing", which is rather apt for a firm where "everyone has their own office".
The corporate law giant is housed in one of the most recognisable buildings in the UK: you'll find Kirkland & Ellis' London trainees toiling away behind triangular glass windows at The Gherkin. Taking up six of the iconic building's 41 floors, trainees work in offices to rival those in Suits, while also having access to Searcys, the bar at the top of the Gherkin.
"I defy you to find anywhere better to be sat at midnight working on a Tuesday," challenges one trainee. With a spectacular view of the City from which you can "see for miles", I'm sure most of us would agree!
Read Kirkland & Ellis' full firm profile, including The Legal Cheek View and Insider Scorecard.
Mishcon de Reya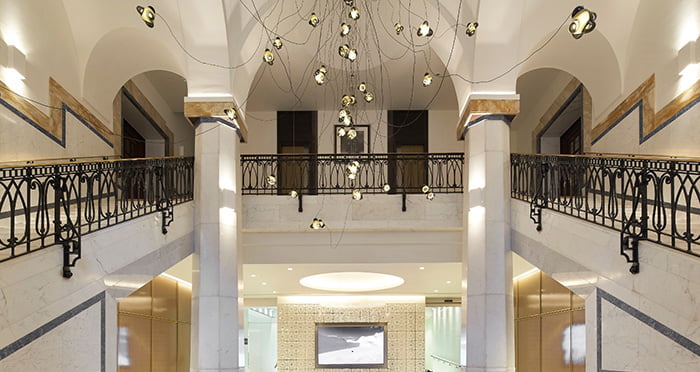 Mishcon de Reya's office in Holborn is perhaps best known for been picketed by Brexit protesters in the run-up to the Article 50 legal challenge. The firm was representing lead claimant Gina Miller in the case, and attracted pro-Brexit abuse because of this. Had the protestors ended up inside the building, however, they would have seen the office is nothing short of swanky. (With clients as famous of those on Mishcon's books, such as American Express, Christian Louboutin and Microsoft, perhaps that's to be expected.)
Mishcon's Holborn HQ is feted as "completely incredible" by Legal Cheek survey respondents. Entry is via a kind of avant garde cocktail bar, where clients can grab themselves sushi and martinis while they wait. And, both interestingly and perhaps rather fittingly given the firm's recent investment in technology, coffee at the firm is served via an iPad. What more could you ask for?
Read Mishcon de Reya's full firm profile, including The Legal Cheek View and Insider Scorecard.
Norton Rose Fulbright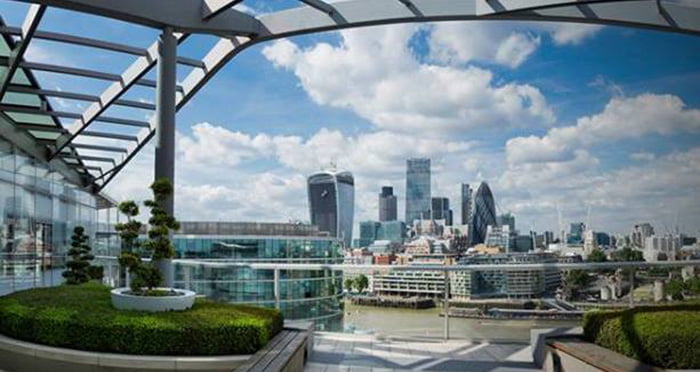 Sitting prettily on the banks of the Thames, close to City Hall and just next to fellow 'best office' contender Gowling WLG, you'll find Norton Rose Fulbright's London office in all its glass and steel splendour.
Trainees, lawyers and their visitors can follow a water fountain trail to Norton Rose Fulbright, a firm that offers 45 training contracts a year, from London Bridge station, passing the likes of EY and PwC on the way. Nearby amenities include a Tesco Metro, Café Nero and a Jamie's Italian, though the firm's canteen (which now includes a bar) will likely have you sorted food-wise.
Inside, vistas don't come much more captivating than the roof terrace situated on the ninth floor. On the way up, in a glass lift to rival Willy Wonka's, you get an eyeful of Norton Rose Fulbright lawyers busy at work in their spacious work cabins (which are also made from, you guessed it, glass). "Managed to smuggle my significant other up there for the view which was nice," reveals one cheeky trainee.
Read Norton Rose Fulbright's full firm profile, including The Legal Cheek View and Insider Scorecard.
Reed Smith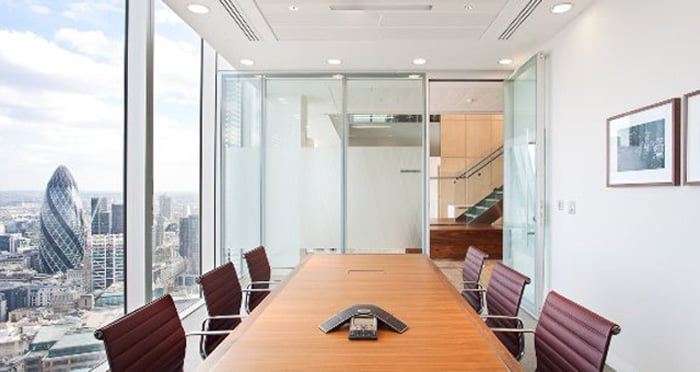 Reed Smith trainees are all praise for the impressive view that can be seen from high above in the Broadgate Tower on the fringes of the City, where its office lives. Even if you've never visited, you may have seen the 35-floor skyscraper before: the tower has featured in James Bond action thriller Skyfall. "It never gets old," gushes one trainee.
But, it's not all sit atop and survey the metropolis down below. The firm's Innovation Hub, located on the 33rd floor, is truly a sight to behold — not least because of the surprising lack of boardroom furnishings! The Hub is a giant whiteboard materialised: each wall constitutes a blank surface (bar one which is, of course, glass from ceiling-to-floor) on which its users retain complete freedom to visualise their ideas beyond the remits of a flip chart. Plus, the office has excellent facilities that include an A*-rated canteen serving "great quality" food.
Read Reed Smith's full firm profile, including The Legal Cheek View and Insider Scorecard.
Ropes & Gray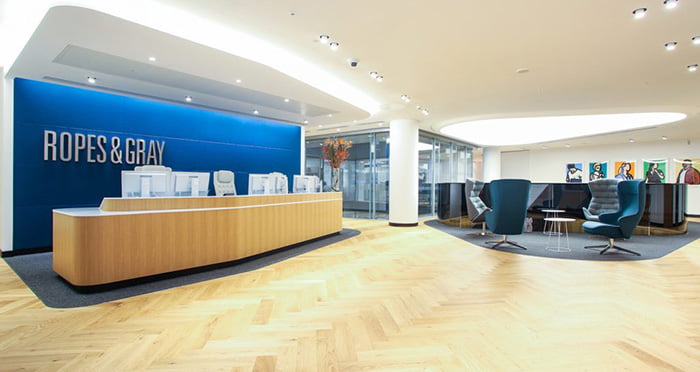 In a brand new building located on Ludgate Hill and in close proximity to the former newspaper district Fleet Street, you'll find Ropes & Gray. Luckily for the corporate outfit's commuting trainees and lawyers, you'll also find City Thameslink station (Blackfriars is close by too). The likes of St Paul's Cathedral, the Museum of London and the Millennium Bridge are also within walking distance of the top-paying firm, for cultured trainees and junior lawyers who fancy a break from drafting. Unsurprisingly, one respondent says the location is "great".
Inside the law firm's London office itself, you'll find an excellent selection of modern artwork also described as "great" by a survey respondent. Both the building and furnishings are praised for being new. According to one insider:
"When lawyers from magic circle law firms recently came over for a closing, they could not stop commenting on how nice everything is."
This is pretty mammoth praise considering how swanky the magic circle offices are too.
Read Ropes & Gray's full firm profile, including The Legal Cheek View and Insider Scorecard.
Taylor Wessing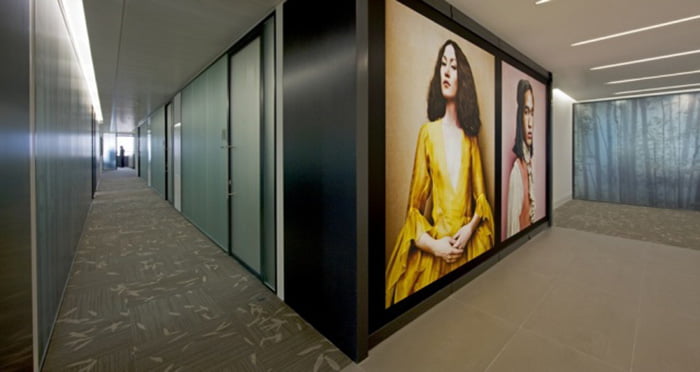 Taylor Wessing has achieved something many law firms have not, and that's coolness. Clients including Spotify and Google and the outfit's top-rated technology practice indicate this, but so does its workspace.
The firm's London base, one of Taylor Wessing's 33 offices across 24 countries, is situated in a legal district just north of the river, not too far from famous nightclub spot fabric. It oozes sophistication and style with plentiful modern artwork adorning the walls (perhaps this is unsurprising, given the outfit's high-profile sponsorship of the National Portrait Gallery Photographic Prize). The open terrace is "great" chimes one trainee, and allows visitors to experience views that extend across legal London.
Facilities-wise, Taylor Wessing has a canteen serving "good food" all day that scored an A* in our survey. It's no wonder why this firm's trainees are full of praise: they scored Taylor Wessing A*s and As across the board in our survey.
Read Taylor Wessing's full firm profile, including The Legal Cheek View and Insider Scorecard.
For all the key information about firms, including what they pay and their full results in the Legal Cheek Trainee and Junior Lawyer Survey, check out The Firms Most List.