❄️ ❄️ ❄️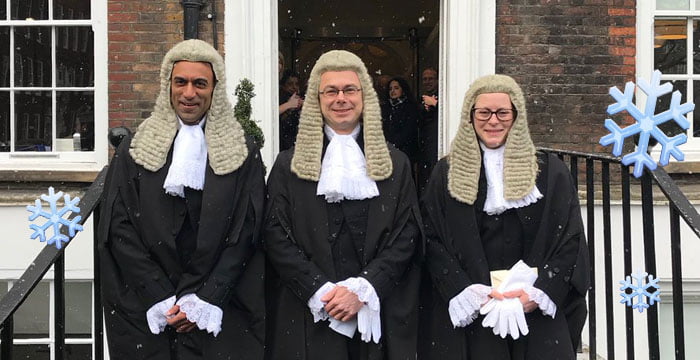 Barristers have taken to social media to trumpet their new-found silk status — and even snow flurries and plummeting temperatures couldn't put a dampener on the celebrations.
In what is now a social media tradition, barristers deemed worthy of QC status have shared images of themselves en route to or at the Silks Day ceremony wearing full-bottomed wigs, silver-buckled shoes and white gloves. In December, we reported that 272 lawyers had put themselves forward for consideration by the QC Appointments Commission. One-hundred-and-nineteen eventually received the nod, equating to a success rate of 44%.
A trio of Wilberforce Chambers barristers braved the February cold for a quick photograph outside chambers before heading to the ceremony at Westminster Hall.
Congratulations to Nikki Singla, Julian Greenhill and Tiffany Scott who will all become QCs today! #SilksDay #NewSilks2018 pic.twitter.com/HHUNNv9Tjp

— Wilberforce Chambers (@WilberforceCh) February 26, 2018
Doughty Street Chambers' Angela Patrick couldn't resist poking fun at those taking silk today.
They're only supposed to carry the ceremonial gloves. I bet that's frustrating today. #silksday pic.twitter.com/jRhUv2NOb0

— Angela Patrick (@Angela__Patrick) February 26, 2018
But the winter weather wasn't going to ruin this 4 Pump Court barrister's big day.
A huge congratulations to Lynne McCafferty on taking Silk today! #SilksDay @First100years pic.twitter.com/D8QvUPvQww

— 4 Pump Court (@4PumpCourt) February 26, 2018
Hardwicke's PJ Kirby QC advised those celebrating to pack their thermal tights.
To all those attending the new silks ceremony – wrap up warm (hope you bought thermal tights)and enjoy the day

— PJ Kirby QC (@kirby_pj) February 26, 2018
His chambers mate, Charlie Bagot, also made silk today. Legal Cheek interviewed him last year about his experience of being a judge and a practising barrister.
Delighted to congratulate @bagotbriefs on his appointment as Queen's Counsel today. A fitting tribute to his excellent clinical negligence, personal injury and insurance practice, as well as the strength of the Hardwicke team. A very proud moment for Hardwicke! pic.twitter.com/rVOY8EyVuH

— Hardwicke (@hardwickelaw) February 26, 2018
If thermal tights aren't your thing, Blackstone Chambers' Nick De Marco QC avoided the winter chill by travelling in style.
Posing with the car on the way to the ceremony #silksday pic.twitter.com/mt0moyha6e

— Nick De Marco QC (@nickdemarco_) February 26, 2018
Quadrant Chambers duo Thomas Macey-Dare QC and Yash Kulkarni QC posed for a photograph in their rather cosy looking horse hairs.
Many congratulations to Thomas Macey-Dare QC and Yash Kulkarni QC on their appointment as Queen's Counsel #silksday @tommaceydare pic.twitter.com/66xJSTXbAe

— Quadrant Chambers (@quadrantlaw) February 26, 2018
Even we couldn't resist a wander round legal London as the snow began to fall.
When the identities of the new silks were first revealed, we reported that 18 lawyers from ethnic minority backgrounds had secured the prestigious title, the highest number ever recorded. In addition, success rates among 2017 female applicants rose. From 50 wannabe silks, 32 were successful (64%), a notable improvement on 2016's 55% and 2015's 52%.
Congratulations to all those who received their title today.