BPP student who fell victim to theft reunited with highlighted and tabbed company law textbook after public plea
Her laptop is still missing, though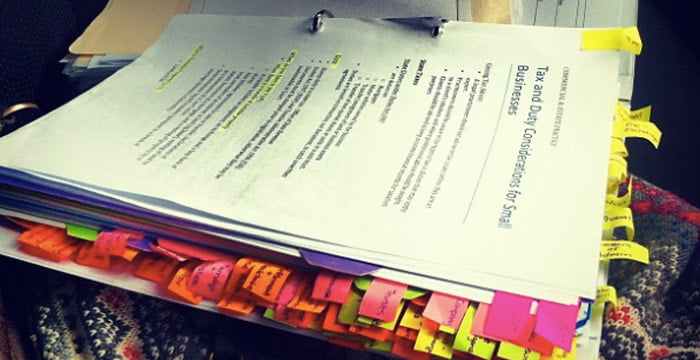 A law student whose rucksack was nicked has, thankfully, been reunited with the one item inside she was particularly keen to recover: her company law textbook.
Polly Dixon, who is studying for her Legal Practice Course (LPC) at BPP in Cambridge, returned to her car one morning to find her rucksack missing. Inside was a laptop, bank cards, her purse, several books and university notes. Speaking to a local newspaper in the wake of the theft, Dixon explained that while the laptop is "obviously worth the most money", it's her Company Law Handbook she was particularly keen to get back. She told Halstead Gazette:
"It's the books that are most important because they are highlighted and tabbed which has taken around three months to accumulate together. I'm just angry really."
Anyone who has mastered the art of law book tabbing will share in University of Hertfordshire graduate Dixon's frustration — but it's also worth noting the book is far from cheap. The newest edition is £160.
Despite her understandable anger, Dixon remained hopeful that the thief may have dumped the rucksack once they discovered lots of paper and books inside. And, thankfully, that seems to have been what's happened. Halstead Gazette reports: "[Dixon] has since recovered the books after her bag was found dumped in the River Colne in Halstead at the weekend."
Her laptop is, sadly, still missing.
Dixon is not the first BPP law student to fall victim to a law work-related theft. A Graduate Diploma in Law (GDL) student hit headlines when she confronted two men trying to steal her £1,300 laptop from the law library, which contained her university work. Thankfully, Greta Hedley-Miller's precious computer was saved after she and some fellow law students were able to pin the perpetrator to the ground. "The adrenaline kicked in," she said.
---
UPDATE: 1:15pm Tuesday 6 February
We have been told by Dixon that a young man has handed himself into police with her laptop. "He has written a letter of apology and the police are working towards a community order for him," she said.