Look at these Lady Hale cupcakes
Gowns, tribunal fees and a thesis on fraud also make appearances in Great Legal Bake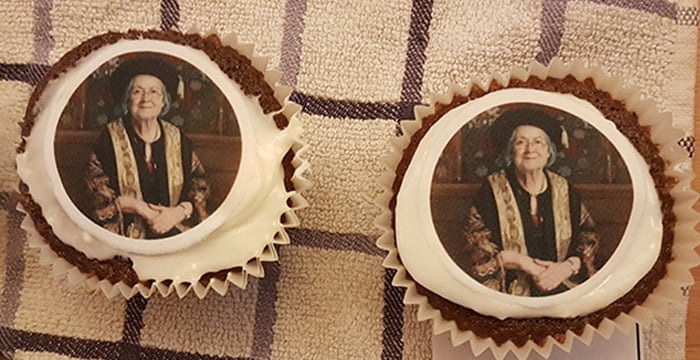 Lawyers have been treated to delicious lunchtime treats in the office this week, thanks to the Great Legal Bake.
Held annually for the benefit of legal advice centres across the country, the Great Legal Bake is an opportunity for sweet-toothed lawyers to satisfy their cravings and give to charity.
While chocolate, marshmallows, caramel and other sugary goodness are a given, what Legal Cheek really looks forward to each year is the wonderful showings of creativity that come in the form of law-themed cakes. Last year's Great Legal Bake delighted with Brexit cakes and Donald Trump desserts, while the year before we saw bundles, wigs and even the Supreme Court.
But, this year, even we couldn't help but gasp when we saw these Lady Hale cupcakes, courtesy of the Oxford Human Rights Hub: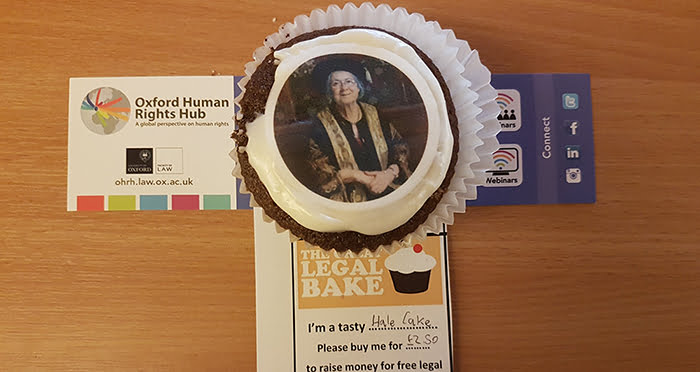 The cupcakes were "pretty tasty", we're told.
Also getting the thumbs up from us this year is this delightful spread from Queen Mary University London:
Are you peckish and looking for lunchtime treat in Mile End? Come and see what our wonderful bakers have made for the Great Legal Bake. QMUL Laws reception #GreatLegalBake @londonlegal @QMSchoolofLaw pic.twitter.com/WxiUe4VsvU

— Legal Advice Centre (@QMLAC) February 13, 2018
It's the Great Legal Bake and our team are setting up! Head to Laws reception for some breakfast! @londonlegal #GreatLegalBake pic.twitter.com/2iSppvHrgV

— Legal Advice Centre (@QMLAC) February 13, 2018
Plus a delightfully-decorated tribunal fees-themed cake that we're sure took hours to craft:
#GreatLegalBake tribunal fees cake @EasternLegal @CraneandStaples pic.twitter.com/ZcUGQZK5PJ

— sharon montgomery (@sharonmonty) February 13, 2018
If tribunal fees aren't quite your bag, what about that distinctive legal gown?
The legal themed #cakes have landed ? #GreatLegalBake wait till you see my colleagues Employment tribunal fees cake ??@lizrussell_16 @legalcheek @WelHatCAB @londonlegal and celebrating @CraneandStaples 80years and my one year anniversary as a Solicitor-Advocate ?? pic.twitter.com/UKgohbXUpu

— Tia (@TiaChildrenLaw) February 13, 2018
Though seeing 'crime', 'tort' and 'contract' iced on a slice of cake might sound like the beginning of an unnerving, exam stress-induced nightmare, we think these bakes look rather dreamy:
Has ICLR.3 ever looked so delicious? It's the #GreatLegalBake day at @TheICLR pic.twitter.com/mOR2Gd2Hc6

— Paul Magrath (@Maggotlaw) February 12, 2018
And then, when we thought we'd seen it all, this popped up:
Thesis in cake form. This totally counts as viva prep, right? #GreatLegalBake @CardiffLaw pic.twitter.com/y7A9eWumLn

— Katie Richards (@KatieRichards5) February 13, 2018
But some lawyers don't only grab a whisk and don an apron when charitable causes call.
Kay Ma, for example, is a freelance corporate solicitor who also owns a cake-making business. Other lawyers have, in fact, left the legal profession to pursue their passion for all things sweet, such as former Linklaters lawyer Harpreet Baura and 5 Paper Buildings barrister Olivia Potts.
In recent years, lawyers have even reached the dizzy heights of Great British Bake Off fame: law graduate John Whaite won the competition in 2012, while criminology graduate Rav Bansal took part in 2016.