Exclusive: Profession's social mobility problem not reflected at university level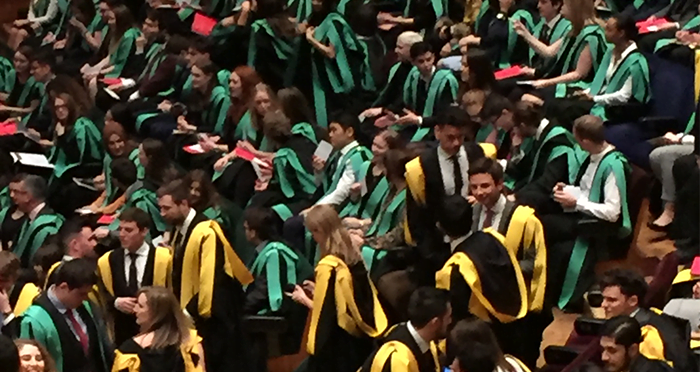 The number of law students hailing from independent schools has decreased by hundreds since the 2012 tuition fee hike, while in the same period the number of state-educated law students has increased by thousands.
Data obtained by Legal Cheek shows that in 2012/13 there were 42,515 UK domiciled full-time undergrads studying law who were from a known and applicable school type (i.e. either privately or state educated). Nine percent of these (3,645) were from a privately-funded school.
The latest available Higher Education Statistics Authority (HESA) data, from 2016/17, shows at that point the number of law students was 43,945, and 3,415 were privately educated. That's a drop of 230 students or one percent point.
It's state school kids, then, who are responsible for the increased law school footfall. The number of state-educated law students has gradually increased each year from 2012/13 (38,870), and now stands at 40,530. That's an increase of 1,660 or 4%.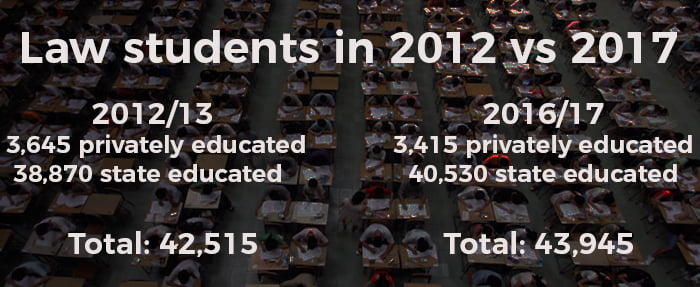 Over the same time period a similar trend is experienced in wider student populations, HESA data shows. In 2012/13, 978,625 state-schooled students were enrolled in UK universities, studying a wide range of subjects, versus 109,755 privately-educated students — that's 90% and 10% respectively.
By 2016/17, the number of independent school students dipped to 109,595, and had actually fallen quite substantially to 105,060 in 2014/15. State-educated students now top one million and make up 91% of the student population.
With 7% of the general population having attended a private school, university statistics both in law and otherwise paint a fairly representative picture. However, the legal profession's social mobility problem continues.
The solicitors' profession, bar and judiciary have long been seen as bastions of privately-educated privilege, taking on a far higher percentage of independently-schooled law graduates than come through the university system. And, when they get there, they stand to earn more money than their state-schooled peers, new data shows.
Because of this, there are plenty of diversity initiatives hoping to hold the key to law's social mobility problem, these including: the Sutton Trust, Big Voice London and PRIME.