Exclusive: New ads show sets continue to pinch pennies when it comes to support staff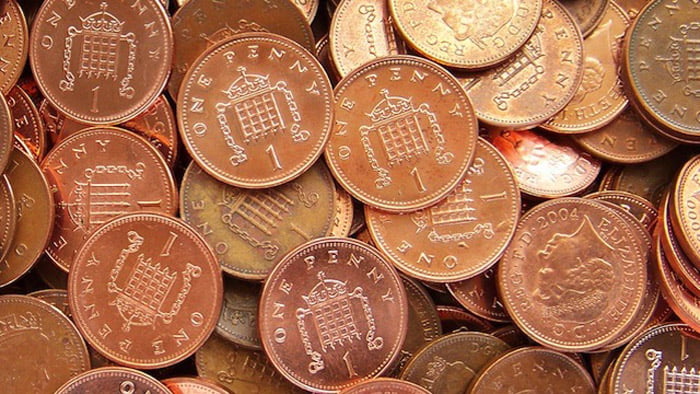 A number of London's leading chambers are advertising junior clerk positions that pay well below the living wage, Legal Cheek can reveal. This close-fisted approach to support staff salaries continues despite two prominent sets pulling ads in recent months after being contacted by us.
New junior clerk positions have been posted by ABC Chambers Solutions, a legal recruitment and management business. The online ads do not disclose the identities of the sets but at least two are explicitly London-based and all pay under the living wage recommendation.
The Living Wage Foundation (LWF) — an independent organisation that promotes fair pay across the UK — recommends that a person aged 18 or over and working in London should receive at least £10.20 per hour. Operating on the assumption junior clerks will work a 37.5 hour week, this comes out at £19,890 per annum — thousands higher than what any of the ads below are offering.
First up, a "Team Junior Clerk" position at a "leading commercial chancery and business law set". The role is based at Lincoln's Inn (home to some of the country's top-remunerated lawyers) and pays "£18k + travel", according to the ad. This base salary is £1,890 less than what the LWF deems fair.
Next up, a "Junior Clerk" position on a three-month contract. The vacancy is at a "leading commercial set" which is "frequently involved in high profile domestic and international commercial litigation". The clerking role pays just £17,000, the ad says, £2,890 less than the London living wage. The location of this set is not specified, but the £17k salary is in fact below the outside-of-London living wage too (£17,063).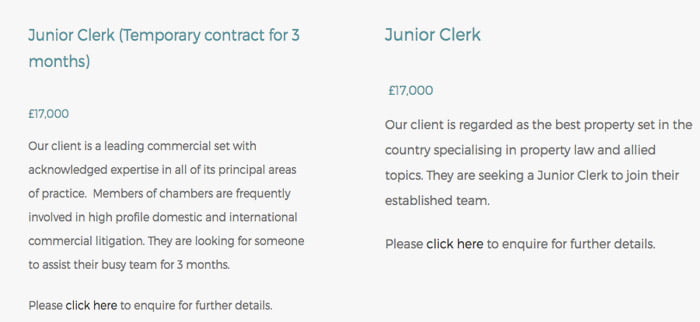 The examples of poor support staff pay don't stop with the commercial sets. Another junior clerk position, despite the ad trumpeting that the London set is recognised "nationally and internationally" for its work in areas including "business crime", pays £18,600. This is £1,290 less than the living wage recommendation.
Rounding off our foursome is a "junior clerk" role at the "best property set in the country". The job listing doesn't disclose where the chambers is based but does reveal the role pays just £17,000 a year, a whopping £2,890 below the London recommendation and £63 less than the UK-wide living wage.
The new online ads come just months after we revealed Keating Chambers was seeking a full-time junior clerk on a salary of "£15,000 PA [per annum] plus benefits". Having reached out to Keating, the construction law specialist told us the ad had been posted by mistake. A spokesperson said:
"The Executive Committee of Chambers recently met and agreed to review the pay scales and the interview processes for junior positions. I am afraid the advert for the new position was released before that process had taken place and in error."
Keating isn't the only set to have been caught up in the low pay storm.
Last year, Legal Cheek revealed that XXIV Old Buildings and 12 King's Bench Walk were both advertising for support staff roles that paid pittance.
XXIV Old Buildings was seeking two junior clerks on an annual salary of just £16,000 each. The set — a commercial law specialist with a hub in Geneva, Switzerland — stood by its ad. A spokesperson told us: "The position advertised is an entry-level position for individuals who have no experience and who are keen to take their first step into clerking — we do not expect the person to be on this salary for long."
Meanwhile, personal injury and clinical negligence specialist 12 King's Bench Walk advertised for a junior clerk on a salary of "circa £17,500". Fortunately, the set bumped pay to £21,600 after we got in touch.