Aspiring barrister, 16, who won a coffee with Lady Hale shares dream of being the next Lord Pannick
He also had lunch with Lord Hodge as part of his student essay competition victory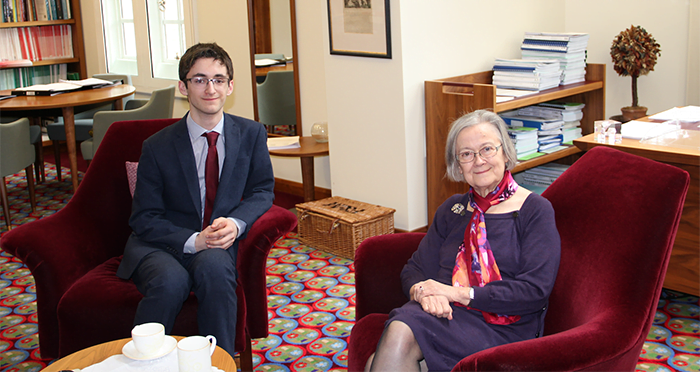 A 16-year-old from Fife, Scotland, who spent the day chilling with Supreme Court justices has told Legal Cheek he hopes to study law at Cambridge then become a public law barrister.
Kit McCarthy (pictured above with Lady Hale and below with Lord Hodge) was the winner of the highest court in the land's inaugural student essay-writing competition, to which the 61 entries were judged by Supreme Court judicial assistants. Once the essays were whittled down to the top three, the shortlist was passed over to the court's president, Hale, who chose a winner.
McCarthy was informed of his win by a letter written and signed by Hale herself. On opening this, McCarthy recalls making a "funny noise" before telling his "over the moon" mum about the news. A keen legal writer, McCarthy learnt about the essay competition on Twitter and decided, having recently read Shami Chakrabarti's On Liberty, to write a piece on closed material procedures.
The award-winning essay saw McCarthy bag a £100 voucher — and a coffee with Hale in her office. They discussed various legal affairs topics raised in his essay such as different government departments' approach to litigation and the role of judges in these proceedings. Later in his visit to the Supreme Court, McCarthy hung out with Hodge, a fellow Scot. The pair discussed McCarthy's involvement in the Youth Parliament, among other topics.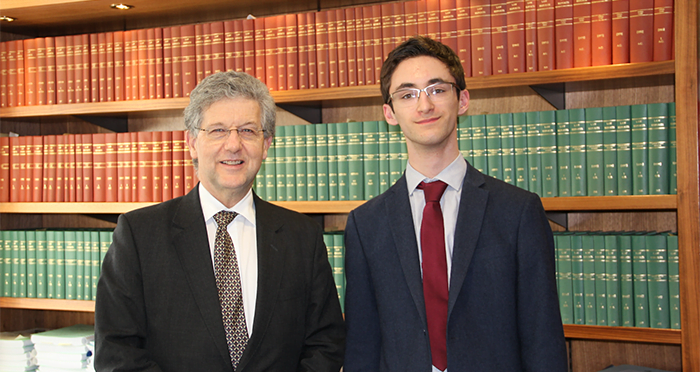 McCarthy also spent time with the judicial assistants to Lord Kerr and Lord Wilson, watching a hearing and hanging out in the Supreme Court library.
With a Supreme Court win under his belt aged just 16, it's unsurprising McCarthy fancies himself as a barrister.
"I've always been keen to get into a courtroom when I can", he tells Legal Cheek, revealing he'd visited the Westminster building twice before his essay win, as well as the Royal Courts of Justice and the Old Bailey. He hopes to read law at Cambridge before becoming a public law barrister, McCarthy says:
"I'd like to get involved with tricky legal problems and help try to untangle them."
Perhaps looking to public law guru Lord Pannick for inspiration, McCarthy reveals he made good use of the Supreme Court's livestreaming facility while the Gina Miller judicial review was taking place, in which Pannick was representing the claimant.
McCarthy, who says he's wanted to be a lawyer since he was 12-years-old, is the first winner of the Supreme Court's essay-writing competition, which was open to year 12 and 13 students. The plan is to make the competition an annual event; expect the Supreme Court to begin accepting entries in June.