Exclusive: Huge increase in law student numbers, though some unis experience major falls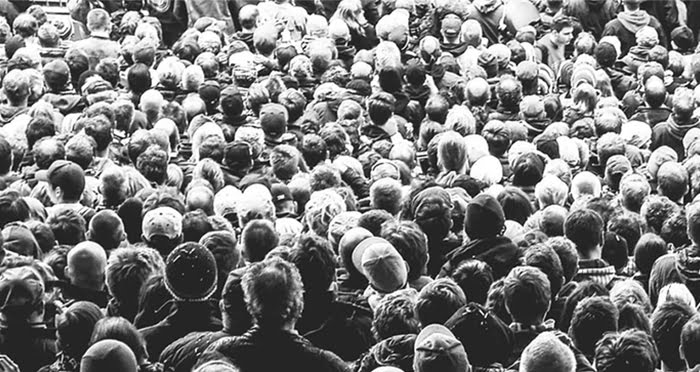 Seven universities took on more than 500 new law students last year, compared to just three doing the same the year before, Legal Cheek can reveal. This rise of super schools comes as a number of law departments increase their cohorts, though there are notable drop-offs in numbers at other law schools, too.
There are more than 100 universities that took a new batch of law students in 2017, UCAS data shows, and at seven of these the cohort was more than 500-strong. Twelve law schools boasted cohorts of more than 400 but less than 500, while a further 12 took on 300-400 newbies. The vast majority of law schools, then, took on less than 300 aspiring lawyers, including Oxford (220 new law students) and Cambridge (215 new law students).
Back to these super law schools, which we can reveal are: Liverpool (590), Nottingham Trent (555), Essex (550), Leicester (515), The University of Law (510), Northumbria (505) and Leeds Beckett (500). This means 3,725 people accepted places to study law in 2017 at this seven-strong group. That's more than at Bristol (380), Durham (295), King's College London (235), the London School of Economics (175), Manchester (335), Newcastle (240), Nottingham (290), Sheffield (240), Southampton (160), Sussex (275), Queen Mary (285), University College London (200), Warwick (270) and York (240) added together.
This is the second year Legal Cheek number crunching has shown Liverpool is the biggest law school in the country. Last year 580 people accepted places to study law there, meaning if Liverpool increases its cohort next year by the same as it did this year, it'll be the first ever 600-club member.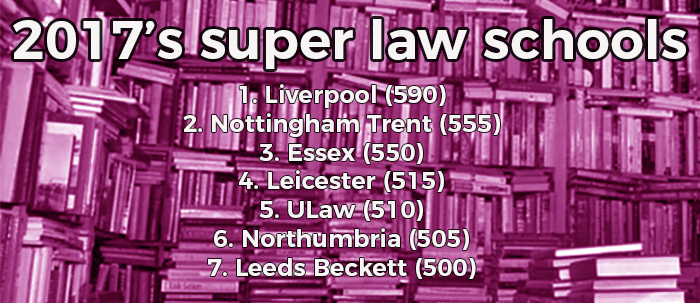 Continuing to look back to last year, it was Leicester (515) in second place and then Leeds Beckett (505) in third. With the number of law hopefuls accepting a place at Nottingham Trent having increased by 75 (or 17%) the Midlands uni is now in second place. Essex, in third, has also enjoyed a huge influx of law students, from 445 to 550 (105, 24%) in one year.
It's not just our newly-crowned super law schools who have experienced big law increases since the 2016 acceptance round.
At Brighton, the number of law acceptances has more than doubled from 70 to 145, while at Stirling the figure has increased from 85 to 155. De Montfort now boasts 415 acceptances onto its law course versus 340 the year before, while Bath Spa has for the first time opened its doors to law students (its neighbour, the University of Bath, has not).
This increase in law school places fits with non-provider specific UCAS data, which shows the number of law students both applying to and accepting places at UK universities has increased.
We have previously brought you the news that 26,075 people accepted places to study law in 2017, this making law's fresher cohort the eighth biggest of all, after: biological sciences, business studies, computer sciences, creative arts and design, engineering, subjects allied to medicine, and social studies. While the number of students accepting places to study all subjects at university in 2017 fell by more than 1,000 (0.24%), law's clout has persisted; acceptances have increased by 4% since 2016 and by 18% since the tuition fee hike in 2012.
This high number of acceptances is, of course, followed by an even higher number of applications made to study law. Legal Cheek revealed last year that the number of LLB applications had increased by 5,410 since the year before. This was more than any other course, both in percentage and real number terms.
However, that's not to say numbers are on the up at all law schools.
At Aberdeen, for example, 170 said yes to its law degree compared to 240 the year before, while numbers are down by 50 at Anglia Ruskin (from 180 to 130). More striking is undergraduate student numbers at BPP Law School, which now stand at 105 (versus 240 in 2016 and 535 in 2015).
Purchase tickets for Legal Cheek's Future of Legal Education and Training Conference on May 23.