It orders MP to stop 'masquerading' as one its cartoon characters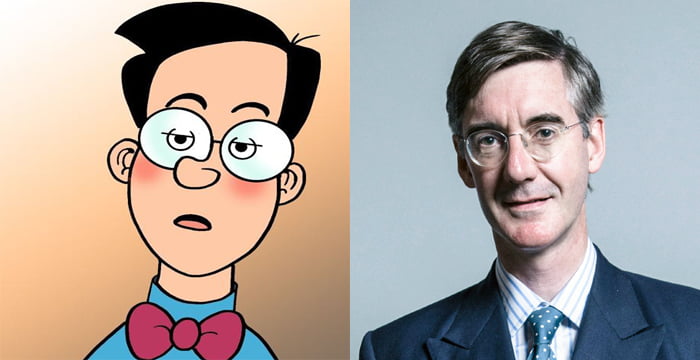 Beano has fired off what appears to be a spoof cease and desist letter to Conservative MP Jacob Rees-Mogg, requesting that he refrain from "masquerading" as Dennis the Menace's arch-nemesis Walter the Softy.
The comic book company has written to the MP for North East Somerset claiming he has "adopted trademarked imagery and brand essences of the character to the benefit of enhancing your career and popularity."
The 'legal letter', signed by Mike Stirling, head of Beano Studios in Scotland, goes on to "firmly request" that the well-known Eurosceptic "cease and desist in your ongoing impersonation" of Walter.
It's come to our readers attention that @Jacob_Rees_Mogg has been masquerading as Beano character Walter Brown. A clear breach of our copyright. pic.twitter.com/voWQZ5VkPS

— Beano (@BeanoOfficial) April 4, 2018
The pink bowtie-wearing character, who does happen to bear a striking resemblance to the Eton-educated politician, first appeared in the Beano in 1953, and is often on the receiving end of Dennis and his friends' bullying.
But it would appear Rees-Mogg has taken the Beano's online banter in good spirits. Responding to the tweet, which at the time of writing has garnered more than 3,500 retweets, he said:
"I am flattered to be accused by the Beano's legal eagles of imitating Walter the Softy whose powerful physical prowess is so much greater than my own."
This isn't the first time a cease and desist letter has been been used for comedic effect.
Last year, we reported that the manufacturers of Bud Light beer had sent a town crier with a calligraphy-covered scroll to the offices of a rival brewer, after the latter launched a new beer called "Dilly Dilly". This phrase is a marketing slogan that features heavily in Bud Light's popular US TV adverts, which are Medieval-themed.
Closer inspection of the legal letter parchment revealed the brewery could flog its existing stock of Dilly Dilly beer, but requested it refrain from selling future products under the catchy name.