Barristers have been refusing to take new publicly-funded cases since 1 April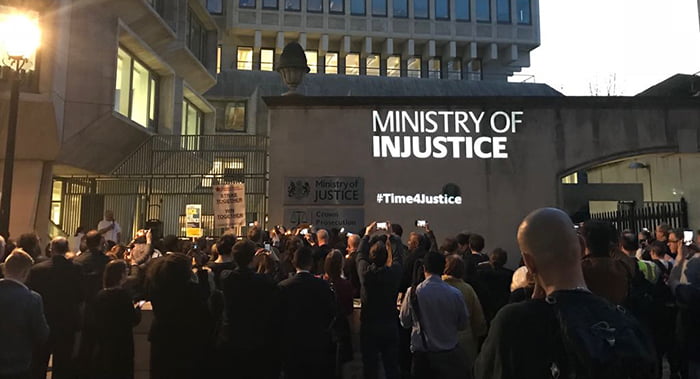 Hundreds of campaigners stood shoulder-to-shoulder yesterday evening outside the Ministry of Justice (MoJ) as part of a protest over the government's ravaging cuts to legal aid. The 'Vigil for Justice', organised by campaign group the Justice Alliance, comes just days after the number of chambers refusing to accept publicly-funded defence work hit 91.
Twitter was awash last night with eye-catching images of solicitors, barristers and more mourning the metaphorical death of the UK justice system. Those gathered heard impassioned speeches from the likes of Garden Court Chambers' Mark George QC, Shadow Justice Secretary Richard Burgon MP and Young Legal Aid Lawyers' co-chair Katherine Barnes.
Richard Burgon MP addresses the #VigilforJustice at the Ministry of Justice #Time4Justice pic.twitter.com/nHCWOVZgLe

— PCS Union (@pcs_union) April 18, 2018
Placards were aplenty: Legal Cheek particularly liking this Pusheen the cat-inspired effort.
#LegalAid barristers working 70h weeks for less than minimum wage. This is how the innocent get locked up and the guilty walk free.

Join @YLALawyers at the #VigilForJustice outside the @MoJGovUK today at 7pm. #JusticeIsBroken #WeAreForJustice #TheLawIsBroken pic.twitter.com/HOewsB4CkZ

— Samuel March (@Sam_Oscar_March) April 18, 2018
As day turned to night, many protestors started lighting candles.
Candles lit now at @justallianceuk #VigilForJustice. Together we are mourning the collapse of our #legalaid system and the denial of access to justice to the most disadvantaged in our society. #Time4Justice pic.twitter.com/6H13WlHlF8

— Mary-Rachel McCabe (@MaryRachel_McC) April 18, 2018
At one point, 'Ministry of Injustice' was projected onto the side of the MoJ's office.
Perfect ending #VigilForJustice @MoJGovUK pic.twitter.com/PhbAnSTc7v

— Audrey Cherryl Mogan #FBPE (@acmogan) April 18, 2018
The protests suggest many lawyers agree with the Criminal Bar Association's (CBA) position that 'enough is enough'.
In March, CBA members voted overwhelming in favour of direct action from 1 April. This was in response to changes to the Advocates' Graduated Fee Scheme (AGFS), which barristers say will result in further cuts to their income. Nearly three weeks on, and it is now understood that over 90 chambers are declining legal aid-funded defence work.
And things don't look much brighter for their solicitor counterparts.
New research published by the Law Society this week suggests criminal defence solicitors may become extinct in parts of England and Wales within five years. Citing "drastic cuts" and an increasingly ageing profession, Law Society president Joe Egan warned that the justice system was facing a "cliff edge scenario".