Katherine Cousins, now an associate, turned her tips into a book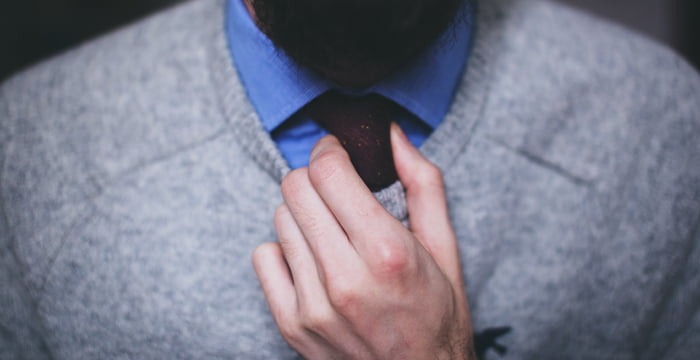 Judging by its inoffensive title and front cover, you may not think that Successful Solicitor: Get Ahead of the Game as a Junior Corporate Lawyer is full of material that was censored by the author's firm. And yet, it is.
Katherine Cousins, a City solicitor, had in 2013 written a fashion blog for the then-named Berwin Leighton Paisner's intranet during her time as a trainee. This came about, she tells us, "following a chat I'd had with a member of the graduate recruitment team that vac schemers were turning up dressed far too casually for a City law firm".
However, she saw her efforts pulled by the firm (which has now merged and is called Bryan Cave Leighton Paisner) over concerns it was inappropriate — a fact that caught the press's attention. Cousins continues:
"After the firm/press reaction, one of my very good friends was trying to make me feel better and said something like: 'People write funny, controversial things every day that don't make the national press, it was really well written. You should write more.' I put it to one side to focus on being the least problematic trainee of all time for the rest of my TC, but it stuck with me."
Now, five years later, Cousins' once-censored fashion advice lives on in the pages of her 115-page debut title, which she wrote over the course of two years on her morning commutes and on weekends. It includes "all the tips, tricks, hacks and lessons I've learned". But, given its backstory, it's the fashion and beauty know-how we couldn't help but skip to.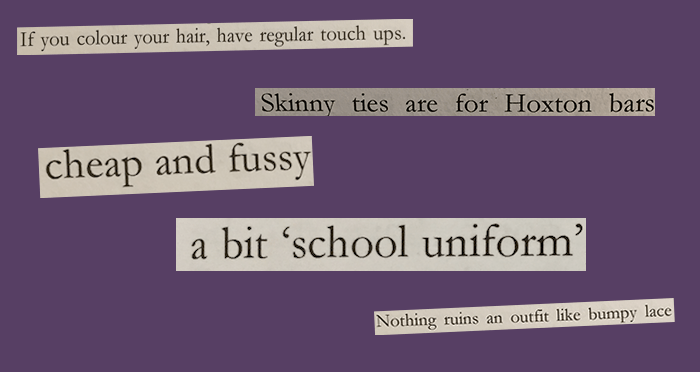 "Like it or not," she says, "your clothes make an impression and you don't want that impression to be 'Does he understand how to use an iron?' or 'Nice to know she likes red bras'."
Her blunt advice for men, then, is to punt for a "dark blue, charcoal or grey" suit — "black is only for funeral attendees and bouncers" — and smart shoes that are "not too pointy" nor worn without socks. As for shirts, "avoid checks and stripes" and remember: "Skinny ties are for Hoxton bars, not the office."
To female lawyers, Cousins advises going for as expensive a suit as you can. Marks & Spencer and Whistles are both namechecked. But a word of warning from Cousins about ASOS and Topshop: "Outside a fashion magazine, a jungle print short suit is not office appropriate."
Other titbits of advice for women include investing in non-VPL knickers and non-patterned hosiery. If you colour your hair be aware "roots look scruffy and unprofessional". Oh, and: "Do not wear false eyelashes to work. You're not a nightclub dancer."
When you've got your necessarily totally-devoid-of-all-personality look down, readers can turn over the page to find competition lawyer Cousins' advice on "how to avoid 'associate's belly'" caused by a toxic mix of "high billables, little sleep and canteen food for every meal". You can combat weight gain by drinking one of your meals, moving around the office even if only to get a coffee and squeezing in workouts where you can, Cousins says.
Though advising readers who are worried about weight gain to work out is hardly revolutionary, following all the tips included in Cousins' book, published by Buggle Publishing, at times seems quite unachievable. Being proactive when seeking work, knocking on doors, not saying no, "skipping lunch, cancelling drinks or working till midnight" — it sounds like a life many would not want to lead.
But Cousins — who studied international relations and social anthropology at St Andrews — in the first few pages of her book stresses you don't have to be perfect to be a successful corporate lawyer. She says:
"I have cried in the toilets on multiple occasions… I've left my phone off for days when on holiday and I've read the FT for two hours and listed it as 'business development research' on my timesheets. I've also worked 80-hour weeks, finished urgent tasks from the Eurostar/my hotel room/the start line of a marathon."
Despite this, Cousins has had a glittering career as a junior lawyer thus far. She ended up at Baker McKenzie in Brussels, Belgium, on qualification and is now a solicitor at Constantine Cannon — "I'm human. And I'm an excellent lawyer," she says.
And sometimes even excellent lawyers have "gotten far too drunk at graduate recruitment events". Cousins explains:
"Being a trainee can sometimes feel like being on a two-year freshers week. You are expected to participate in graduate recruitment events and these will almost certainly involve drinking large quantities of dreadful, cheap wine without any dinner."
Making a drunken fool out of yourself and having the hangover from hell the next day, thankfully, isn't inevitable.
Eating something filling and fatty before an event (Cousins says oily avocado on toast is "a perfect pre-gaming snack") and going for "clean alcohols" like vodka and gin are just two of her recommendations.
"Do remember to drink some water between rounds," she says. City lawyers are far from perfect, but: "calling in sick with a hangover [the next day] is absolutely and completely unacceptable."