Exclusive: Henry Hendron prepares for bar return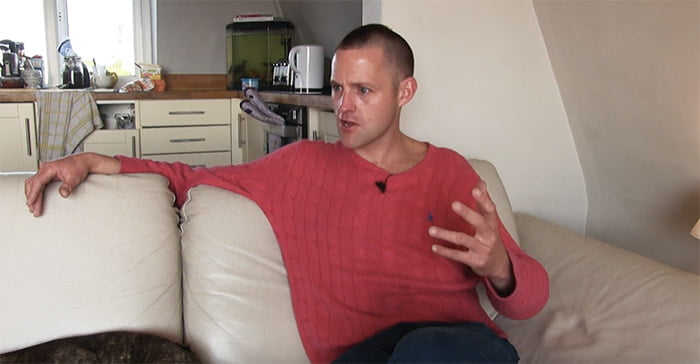 A junior barrister who is currently suspended from the profession following a conviction for drug offences is flogging "legal packages for life" via Facebook, Legal Cheek can reveal.
Henry Hendron, formerly of Strand Chambers, London, is selling his legal expertise ahead of his return to the bar, according to a post on his Facebook page. The ad, posted earlier this week, explains how punters can pay £2,000 to receive a lifetime's supply of "legal advice and back office support" courtesy of Hendron. For £4,000, Hendron will throw in an unlimited amount of "court representation", too.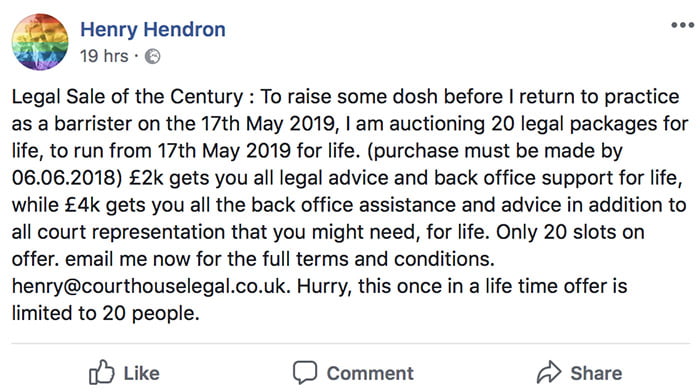 In January 2015, Hendron was arrested after his boyfriend, Miguel Jimenez, was found dead with drugs in his system. Hendron pleaded guilty in March 2016 to two counts relating to possession of a controlled drug with intent to supply, and was handed a community order with 18 months supervision and 140 hours unpaid work. In light of his conviction, the Bar Standard Board (BSB) suspended him from practice for three years.
Hendron's offer — which he describes as the "Legal Sale of the Century" — states that all deals will run from 17 May 2019.
Hendron, who was called to the bar in 2006, told Legal Cheek: "I have sold five such contracts already in the space of 24 hours. I anticipate that I will have a full take up for this once in a life time offer, by the time this unique offer closes on the 6th June 2018. Throughout my career as a barrister, I have strived to make law affordable and accessible to the many, not just the few." He continued:
"The bar is changing; make no mistake about it. On my return to the bar in May 2019 I will be at the forefront of that change, opening up the law for all, not just the monied few."
The BSB declined to comment.
Hendron has represented a number high-profile clients including Conservative politician Nadine Dorries, The Apprentice winner Stella English and the Earl of Cardigan. He was fined £2,000 by the BSB in 2014 after blogging during the trial of former deputy speaker of the House of Commons Nigel Evans MP.
Comments on this article are now closed.