More bend and snap?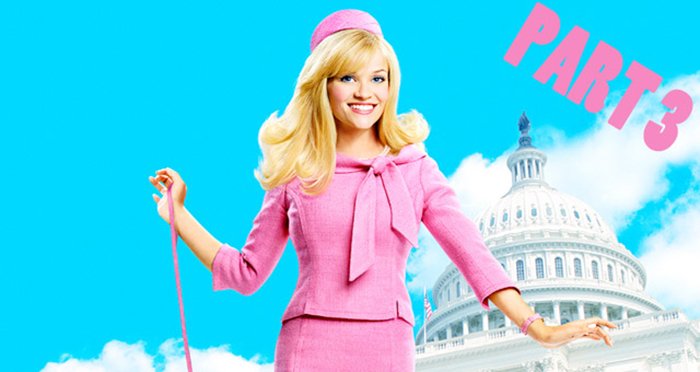 If media speculation is to be believed, Reese Witherspoon is "in talks" to reprise her role as Elle Woods in Legally Blonde 3.
The US actress is teaming up with the film's original writers and producers to work on the third instalment, according to The Hollywood Reporter.
A cult classic amongst law students, Legally Blonde first hit cinema screens in 2001 and followed the exploits of scatterbrain law hopeful Woods at Harvard Law School. The 2003 sequel, Legally Blonde 2: Red, White & Blonde, sees Woods travel to Washington DC on her mission to ban animal testing. Since then, fans have been eagerly awaiting their next Woods fix.
While there are no details yet on the plot, website Deadline is speculating that it will be about "female empowerment".
This isn't the first time that rumours of a third movie have done the rounds.
Witherspoon hinted at a third instalment during a TV appearance in 2015. Speaking on American chat show Fashionably Late with Rachel Zoe, the actress said:
"I actually think it's kind of great right now because we're talking about women in politics and how important that is to get more women… I think it'd be kind of a cool thing to have her be a Supreme Court justice or someone who runs for office."
In 2017, US president Donald Trump appeared to pay his own tribute to Woods during a speech to graduates at Liberty University in Lynchburg, Virginia. The internet went into overdrive after The Tonight Show pointed out the striking similarities between Trump's address and one given by the fictional lawyer.
Tonight: Trump plagiarized his commencement speech from Elle Woods in Legally Blonde pic.twitter.com/EScE4B02F8

— Fallon Tonight (@FallonTonight) May 16, 2017
We'll let you be the judge.