What you need to know about the Grenfell Tower inquiry
The judge, the lawyers and more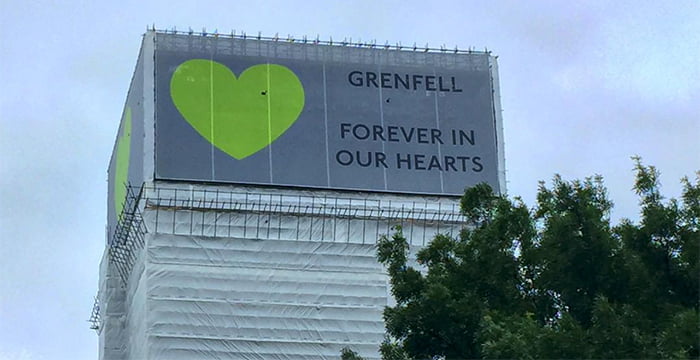 Today, expert witnesses will begin to present evidence to the Grenfell Tower inquiry in Holborn, London: here's everything you need to know about the inquiry so far and what's yet to come.
What's happened so far
The inquiry was announced by the Prime Minister one day after the tragic Grenfell fire, which killed 72 people and left many more injured and/or homeless. Its chair, Sir Martin Moore-Bick, was revealed a few weeks later.
Moore-Bick, 71, was an appeal judge until his retirement in 2016, having before then practised as a barrister in commercial and shipping law. The Cambridge graduate was called to the bar in 1969 and made silk in 1986.
His appointment to the inquiry wasn't without controversy, this largely to do with a judgment he'd given in 2014 which allowed Westminster Council to rehouse a single mother of five children 50 miles away. The decision was overruled in 2015.
The inquiry was opened on 14 September 2017, with procedural hearings completed in December 2017 and March this year. Now, we're at the "phase 1 evidence" stage. This began late last month with seven days of commemoration hearings, at which tributes were paid to the victims.
This was followed by four days of opening statements from lawyers, which Legal Cheek has summarised here:
Day one: opening statements from lawyers for the inquiry
The first day of opening statements was led by Richard Millet QC, who is lead counsel to the inquiry and a tenant at Essex Court Chambers. He said that the central question for the inquiry is:
"How, in London, in 2017, a domestic fire developed so quickly and so catastrophically."
He touched on what would be covered in the inquiry, including: the combustible materials in the tower block and the fire brigade's response.
Millet is assisted by Bernard Richmond QC, Lamb Building, Kate Grange QC, 39 Essex Chambers and Andrew Kinnier QC, Henderson Chambers. A team of 14 junior barristers and nine solicitors are also supporting the inquiry, as is a document review team of ten junior barristers and 15 paralegals.
Day two: opening statements from lawyers for 'BSRs'
On day two, lawyers representing groups of 'BSRs' — bereaved, survivors and residents — addressed the inquiry.
Lawyers for these groups include: Danny Friedman QC, Matrix Chambers, Michael Mansfield QC, Nexus Chambers, Sam Stein QC, Nexus Chambers, Stephanie Bardwise QC, Atkin Chambers, and Imran Khan QC.
There was plenty of criticism directed at fire brigade's 'stay put' policy here. For two hours, the fire service advised residents to stay in their flats, eventually changing its guidance at 2:47am. Before that time, 187 Grenfell occupants made it out of the building. After, only 36 people escaped. The Metropolitan Police is investigating whether this broke health and safety law.
Friedman said the brigade's fire-survival guidance was "confusing" and "too often fatal". He said:
"The control room was deprived of essential operational information about the drama and the scale of events unfolding on the ground, leaving the operators manifestly ignorant about the advice they were giving but also unable to sufficiently react to the clear information that they were being given from the residents that smoke and fire had penetrated much of the building in minutes."
Day three: opening statements from lawyers for the council
On this day, the inquiry was told by Rajiv Menon QC, who is representing the lead tenant of the flat in which the blaze started, how his client discovered the fire which would go on to become the worst since World War II. Menon said:
"Not long before 1am on 14 June last year, he was awoken by a beeping sound. It was coming from the kitchen. He realised it must be the smoke alarm. He opened the kitchen door and looked inside for just a few seconds. What he saw was smoke. It seemed to be coming from behind his hotpoint fridge/freezer. It seemed to be spreading, upward and outward."
Much time was spent hearing from Kensington and Chelsea Council, represented by James Maxwell-Scott QC of Crown Office Chambers. Menon was scornful of the council, saying:
"It is no coincidence that this fire occurred in a building owned by a Tory-flagship borough that has been at the forefront of promoting austerity, cuts and deregulation and prioritising business and profit over health and safety."
Maxwell-Scott said his client recognises it's seen as the "public face" of this disaster, but that it wasn't a council that sought to "build on the cheap". Blame was shifted to a tenant management organisation, 'the TMO' (represented by James Ageros QC of the same chambers). Ageros, however, said refurbishment work was contracted out to other organisations, that the cladding system had been shown to the council several times before it was installed, and that "numerous" high-rise buildings "were clad in similar materials".
Day four: opening statements from lawyers for the fire brigade
A number of organisations on day four appeared under the 'fire brigade' umbrella: the Fire Brigades Union (represented by Martin Seaward), the Fire Officers Association (Louis Browne QC) and the London Fire Brigade (Stephen Walsh QC).
Walsh addressed the fire brigade's 'stay put' policy, which he described as "historically effective". As for why the fire brigade didn't change its policy once the fire spread, he said the design of Grenfell Tower and the lack of a communications system to speak to all residents would've made this very difficult. He said:
"It is a fundamental misunderstanding of the events of the fire… to assume that the building's 'stay put' policy can be changed to simultaneous evacuation at the stroke of a fire incident commander."
The London Fire Brigade also stressed firefighters wouldn't have been aware of the "defects" in the building's materials, such as its cladding, which have only come to light since the fire. The brigade received more calls for fire survival guidance from Grenfell residents on 14 June 2017 than from the whole of London in the past decade.
What's to come
Today marks day one of the expert witness presentations, which are expected to take three days. After that, the inquiry will hear evidence about the outbreak of the fire and the response from the emergency services in its initial stages. Then, it's expected the whole of July will be dedicated to "remaining firefighter evidence", this including: search and rescue, fire brigade control room staff, and commanders who were responsible for decisions taken that night.
After a break in August, the inquiry will reconvene to hear evidence from BSR groups, scheduled to last four weeks, followed by "other" witness evidence. The inquiry's expected to close in October, with expert witness evidence and closing statements.