Young law firm partner jailed after he tricked ex-S&M dungeon master into thinking he'd won £700,000 damages from Channel 4
Andrew Davies was struck off in 2016 after taking client cash and forging documents to cover his tracks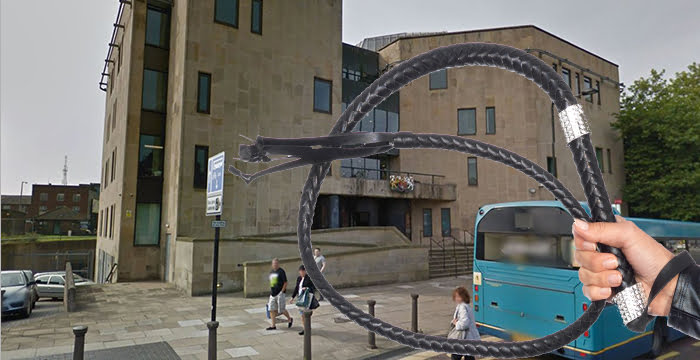 A former solicitor has been jailed for seven-and-a-half years after he duped an ex-dungeon master into believing he'd successfully secured over £700,000 in damages following an appearance on a Channel 4 documentary.
Andrew Davies, 34, falsely told Shaun O'Driscoll he was in line for a six-figure windfall from the broadcaster following a complaint about Me and my slaves — a documentary about S&M he was in.
However, according to Metro, Davies never pursued his client's claim and then "forged documents" in an attempt to prove the payout was legit. The 58-year-old claimant only discovered he'd been misled after he asked court officials for the judgment.
Davies — who was the sole equity partner at Manchester-based conveyancing practice Robert Meaton & Co — "scammed other clients, colleagues and friends" out of £500,000, including thousands from a "man for whom he was best man".
Bolton Crown Court heard how Davies used the cash to pay off the firm's debts and then tried to blame staff when he was caught out. Robert Meaton & Co collapsed in 2014 costing 14 jobs, according to the report, while Davies was struck off the roll in 2016. The Solicitors Disciplinary Tribunal (SDT) judgment reads:
"[Davies] was entirely culpable for his actions. It appeared that the motivation for his conduct was for personal, financial gain… He acted in breach of a position of trust. [He] had complete control and responsibility for the circumstances giving rise to the misconduct. At the time in question he had sufficient experience to be able to run a firm properly but chose to run it dishonestly."
Last month, the ex-solicitor, whose LinkedIn states he studied law at the University of Leicester, was due to return to court for criminal sentencing but failed to appear. He claimed he was going to take his own life, and was eventually found by police officers in a nearby café drinking coffee.
Prosecutor Stuart Neale reportedly described Davies' actions as "severely negligent and fraudulent". Davies' barrister, Lincoln House Chambers' Peter Warne, reportedly told the court:
"[Davies] was going through a mental meltdown and has offered his remorse for his action. When he entered the firm he found out the financial position was not as good as expected and he soon found out the trouble in running the firm at a young age. He did not have the experience and when he ran into difficulty he did not do the right thing by asking for help."
Davies, who started life at Robert Meaton & Co as a trainee and took over the firm in 2012 following the death of Mr Meaton, admitted theft and forgery and was last week jailed for seven-and-a-half years.
Judge Timothy Stead told Davies: "Your offending was dishonest and astonishingly extreme and the impact upon victims is especially significant. This is a man who lies so often that it is clearly part of his make up."