Mouse droppings and risk of contamination cited in findings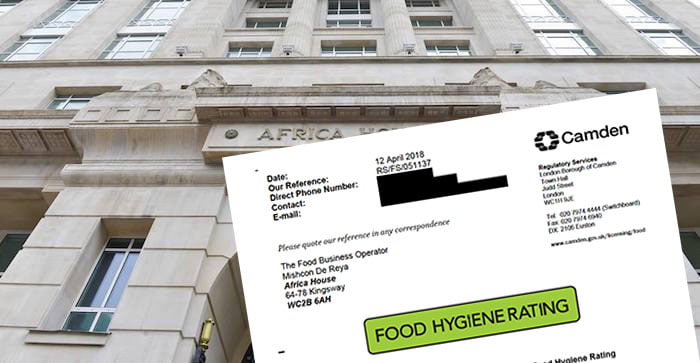 A hygiene report produced by Camden Council and acquired by Legal Cheek has revealed why Mishcon de Reya's glamorous staff eatery was hammered by food safety inspectors.
The report (embedded in full below) shows that the City player's in-house cafe received black marks for various hygiene no-nos, including "potential for cross-contamination of allergens", "mouse droppings" and "ready to eat food held at ambient temperatures". Overall, the firm chalked up a score of 50 out of 60 — 60 being the worst mark possible.

Responding to the report's findings, a spokesperson for Mishcon de Reya said:
"Anything referred to in the assessment report has since been rectified with the help of our supply chain partners."
On the cross-contamination point, inspectors found food containing peanuts, almonds and hazelnuts were not separated from other foods at the firm's self-service breakfast table. Moreover, dairy milk and other types of non-dairy milk were prepared in stainless steel jugs that were not labelled or colour-coded to ensure that there was no cross-contamination.
As for the mouse poo, the report states:
"There was an isolated area of mouse droppings to the first floor kitchen next to the wine cooler. Mouse droppings were also found in the area of service pipes/cables to the ground floor catering staff room."
The detailed findings come just weeks after it emerged that Mishcon de Reya had received a 1 out 5 food hygiene rating by Camden Council's clipboard-wielding inspectors. At the time, Legal Cheek reproted that inspectors had found the Holborn outfit's cafe lacking in "hygienic food handling", "cleanliness and condition of facilities and building" and "management of food safety".

Hygiene indiscretions aside, the two-office-outfit (London and New York) won the coveted Most Admired Law Firm 2018 at this year's Legal Cheek awards. Its canteen won an A rating in the same survey.
Read the report in full below: