End of the line for outspoken family law chief Sir James Munby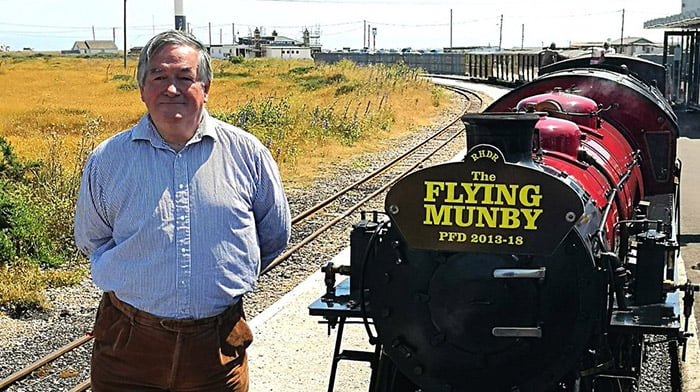 The judge in charge of the family courts has been spotted on a big day out at a miniature railway to mark his retirement.
Family court staff took to Twitter with their snaps of Sir James Munby posing with a train named "The Flying Munby" yesterday afternoon.
Munby, who stands down as President of the Family Division and Head of Family Justice later this month, was joined by his successor, Sir Andrew McFarlane, and predecessors Sir Mark Potter and Baroness Elizabeth Butler-Sloss.
Day out with the working family pic.twitter.com/WiYGrfV0FZ

— Mark Barford (@BarfordMark) July 1, 2018
The judges were on a visit to the Romney, Hythe & Dymchurch Railway, billed as "one of Kent's top tourist attractions" offering "World Famous one-third full-size Steam & Diesel locomotives". Philip Marshall QC said that the president "really loves trains".
Even the Whitehouse doesn't have this much talent Presidents with dignity, morals and honour. pic.twitter.com/vw2hrmoVWL

— Richard Cheesley (@RichC501) July 1, 2018
Munby is held in high esteem by family lawyers and is well known for his detailed and often passionate judgments. In a case last year he warned that "we will have blood on our hands" if no help was found for a suicidal teenager. He said:
"My judicial duty, as with every judge in this country, is 'to do right to all manner of people after the laws and usages of this realm.' There are occasions, and this is one, where doing 'right' includes speaking truth to power. The entrance to the Old Bailey, the Central Criminal Court, admonishes those who enter to 'Defend the Children of the Poor.' Is less required of the Family Court or of the Family Division of the High Court? I think not."
In 2014, he slammed Chris Grayling's legal aid policy as "unprincipled and unconscionable" in an adoption case that saw lawyers having to represent parents with learning difficulties pro bono.
Lawyers will remember Munby's zeal for procedure less fondly. He once said that lawyers who exceed the page limits for their bundles should be shamed by a "special delinquents' court".
Munby has also been outspoken off the bench. In recent speeches, he has said that the decline of the traditional family is something to "welcome and applaud", called on the Crown Prosecution Service (CPS) to consider whether it needs to prosecute children, criticised politicians for not legislating to stop alleged domestic abusers cross-examining their victims, and warned that rising numbers of care cases have created a crisis in the family courts.
Munby steps down on 27 July, his 70th birthday, and is succeeded by McFarlane.