Includes wigs, top hats and law-themed jewellery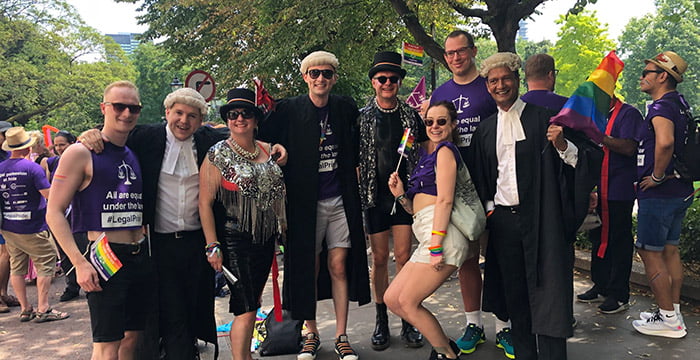 Lawyers lined the streets of London this weekend to march for lesbian, gay, bisexual, transgender and intersex (LGBTI) rights at this year's Pride in London parade.
Around 30,000 people — including Bar Council chair Andrew Walker QC and Law Society president Christina Blacklaws — took part in the parade, the biggest of its kind in the UK. Members of the legal profession have been sharing their social media snaps using the hashtag #legalpride and we've rounded up some of the very best.
The bar was out in force as some barristers braved the sweltering heat and took to the streets in full court dress:
We couldn't be prouder ❤️? #legalpride pic.twitter.com/qqm7hoV6Br

— Power Bottom QC (@2shadyrow) July 7, 2018
It was high fives all round as the lawyers made their way through the cheering crowds:
I hope they don't think they'll get this much admiration next time they go to court…! #managingexpectations Fantastic to spend the day with #legalpride and @FreeBarLGBT friends pic.twitter.com/Raobh8r7gr

— Amanda Illing (@AmandaIlling) July 7, 2018
Legal Beagle couldn't resist joining in the celebrations:
There were rainbow-coloured accessories galore, including these rather funky sunglasses:
Equality Act 2010 necklace? ✅
Happy #LondonPride from me and my Equality Act 2010 necklace ?Delighted to be working in a sector and a city where I can live openly and proudly ✨#LegalPride pic.twitter.com/O2MzbqSPJN

— Verity Bell (@verityebell) July 7, 2018
And you can never have enough wristbands:
Wristbands ready for #LegalPride. https://t.co/efYwIs9AZ9 pic.twitter.com/clhkwRn7ww

— Aaron Richardson (@AaronLR1991) July 7, 2018
Amanda Illing, chief executive at Hardwicke, sported a rather fetching Pride-themed top hat:
#LegalPride look forward to the parade! pic.twitter.com/NRcwGkVAv3

— Amanda Illing (@AmandaIlling) July 7, 2018
While 'all are equal under the law' badges were dished out as freebies:
#PrideMatters each and every day that we live our lives true to ourselves and celebrate the LGBT+ community's diversity, achievements
and progress together #WhyPrideMattersToMe #LegalPride#Pride pic.twitter.com/yWW7PDIN5b

— Kevin Poulter (@kevinpoulter) July 5, 2018
The Inns of Court got in on the action too.
We're proud to be flying the #Pride flag ahead of @prideinlondon this year! #LegalPride #PrideMatters https://t.co/IlBuLEWDp4 pic.twitter.com/okIwcKJowZ

— Gray's Inn (@HonSocGraysInn) July 6, 2018
Middle Temple are excited for#Pride2018 tomorrow! The Pride flag is flying high over Hall in loving memory of our former Master Treasurer, Sir Paul Jenkins, who would have been very proud! #Pride pic.twitter.com/SVCoGAWXRs

— Middle Temple (@middletemple) July 6, 2018
.@TheInnerTemple in a historic move raises the Rainbow Flag, for #PrideInLondon ?️‍? ☀️ pic.twitter.com/l51tqMCoKs

— Legal Cheek (@legalcheek) July 6, 2018
We hoped you all enjoyed London Pride 2018 as much as we did!