Nicholls & Nicholls silent over whether the role will be paid but states that it will 'tailor packages according to the successful applicant's circumstances'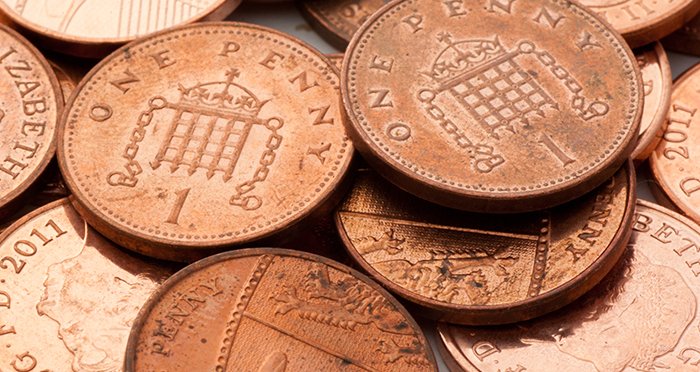 A London law firm has drawn criticism from lawyers on social media for posting an advert offering a would-be intern "travel expenses" during a placement that could last as long as six weeks. The advert makes no mention of a salary.
The internship at criminal defence specialist Nicholls & Nicholls will see one lucky law grad spend between four and six weeks sitting behind a barrister at Chelmsford Crown Court "taking detailed attendance notes" and "liaising with counsel and fee earners". The advert (screenshotted below) says the internship, which starts next month, could lead to a short-term paralegal role at the Blackfriars-based outfit.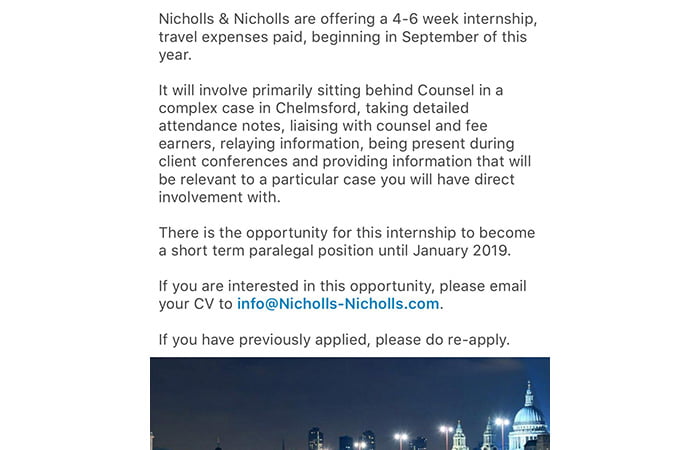 Unfortunately, the situation regarding remuneration is a little less clear. While the ad does say the firm will cover "travel expenses", it fails to mention what the young solicitor-hopeful can expect to receive in terms of pay. This omission didn't go unnoticed when the ad was posted to Twitter.
Tweets from several lawyers, including UCL legal academic Dr Steven Vaughan, 9 St John Street barrister Jaime Hamilton and Devereux Chambers chief Timothy Brennan QC, suggested that they had come to the conclusion that the position was unpaid.
Not even paying minimum wage for what sounds like a specific case dedicated paralegal position. Automatically excludes students without means to support themselves. Very disappointing. [And yes, I know about legal aid margins/fees]. https://t.co/Q0ZDFVYiYO

— Dr Steven Vaughan (@lawvaughan) August 13, 2018
I am sorry to say that Law Firms should not do this. It isn't "an internship", it isn't a couple of days shadowing it is unpaid, temporary staff. It is a handbrake on diversity. https://t.co/He6b4h9I14

— ViewFromTheNorth ? (@jaimerh354) August 13, 2018
Contract? ✅. Does the work personally? ✅ Not a professional client relationship? ✅. Limb (b) worker? ✅ Can you contract out? ❌ NMW? ✅

— Timothy Brennan QC (@BrennanQC) August 13, 2018
Legal Cheek asked Nicholls & Nicholls founder Lucinda Nicholls directly whether or not the internship is paid and she declined to answer directly, instead stating:
"We offer flexibility and tailor packages according to the successful applicant's circumstances."
Nicholls has also issued us with this further statement:
"An opportunity has arisen for a student to observe a trial with our firm in the next couple of months obtaining a 'behind the scenes' feel of how matters progress in a criminal court from a defence perspective. There is no fee earning involved; instead providing a student with first hand experience rather than merely sitting in the public gallery. The role also includes shadowing paralegals, solicitors and barristers who have involvement in cases housed at Nicholls & Nicholls.
"The firm welcomes applications from people of all backgrounds and would be willing to discuss tailoring a package dependent on their work, study and financial commitments. We are a firm who are known for offering great flexibility to their staff and therefore encourage applications from people with little or no experience of the industry coupled with those who are struggling to obtain valuable work experience due to other commitments."
News of the unpaid intern role comes just weeks after Legal Cheek revealed a high street law firm had attempted to fill its paralegal vacancies with unpaid law grads. Posted by immigration specialists Smart Solicitors, the ad stated that candidates who lacked the required experience for the could work for up to six months unpaid.