It's basically Judge Rinder without the legal qualifications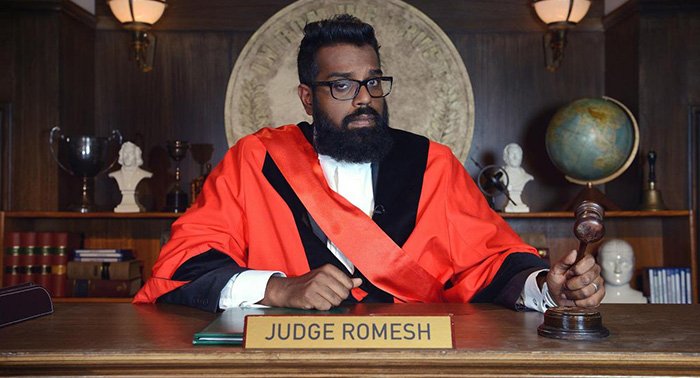 A new courtroom comedy series where the judge pokes fun at the litigants hits television screens this week.
In a twist on popular legal shows such as Judge Rinder, British stand-up comedian Romesh Ranganathan will preside over "real life disputes" in new a reality show airing on channel Dave later this week.
Judge Romesh will hear disagreements from members of the public and dish comic justice in his own deadpan style, and to make things more interesting chaotic, Ranganathan studied maths at university and has no legal background whatsoever.
Reflecting on his new judicial role, Ranganathan said:
"Whenever I have watched shows like Judge Judy or Judge Rinder, I have always thought these people would be better served by someone with fewer legal qualifications and less interest. It is for that reason that I am delighted to make that dream a reality. I am thrilled to be able to help as many people as I can with their crappy problems."
As well as Joe Public's problems, Ranganathan will hear some celebrity spats — courtroom cameos include Happy Mondays' duo Shaun Ryder and Bez (real name Mark Berry), and Duncan James and Antony Costa from boyband Blue.
His court staff aren't afraid to get involved either. Ranganathan's clerk and security guard (played by comedians Kerry Howard and Tom Davis) will chip in with their own opinions and advice to ensure justice is served. Perhaps they can gently remind Ranganathan that gavels are not used in UK courtrooms?
Joe McVey, who commissioned the new show, said:
"Judge Romesh is the much-needed overhaul the criminal justice system has been waiting for. Where the court system has failed to resolve tawdry domestic disputes Romesh Ranganathan is exactly the arbiter of morality we've been yearning for, for like literally yonks."
Courtroom-based shows have grown in popularity in recent years.
In 2014 ITV launched courtroom reality show Judge Rinder. The programme, starring 2 Hare Court financial crime specialist Robert Rinder, is basically British TV's answer to the monumentally successful Judge Judy phenomenon over in the US. Rinder has gone on to appear in a modern remake of ITV's Crown Court, a classic 70s show where the jury is made up of members of the general public.
Not to be outdone, Channel 4 produced a slightly more realistic take on courtroom life with its offering, The Trial: A Murder in the Family. The hybrid legal drama — which aired last summer and featured a real jury, barristers and a judge — focused on the fictitious murder of a 38-year-old woman named Carla Davis, who was strangled in her own home.
Judge Romesh airs Wednesday 8 August on Dave at 10pm.