Series follows the exploits of four tenancy-hungry pupils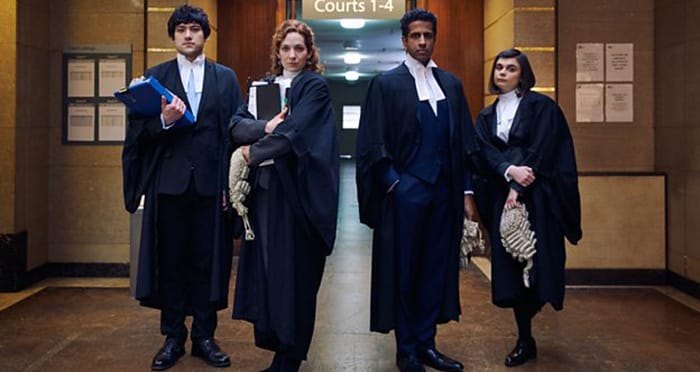 The pilot of a new bar-based comedy show which aired on BBC Two last night has divided lawyers on social media.
The TV programme, Defending The Guilty, follows the journey of wide-eyed pupil barrister Will Packham (played by Will Sharpe), as he lumbers his way through criminal law practice with the help of his pupil master, Caroline (Katherine Parkinson). The 30-minute pilot episode went down a treat with some, but not with many.
It was a thumbs up from Goldsmith Chambers criminal barrister Rachel Law who thought that although the show was "obviously exaggerated" for comic relief, there were "some elements every criminal barrister will recognise".
Not a popular view but I thought #DefendingTheGuilty was hilarious. And, although obviously exaggerated for comic effect, there are some elements every criminal barrister will recognise.

— Rachel Law (@crimcounsel) September 19, 2018
Indeed, the comedy featured some very humorous moments, including pupil master Caroline casually referring to herself in conversation with Packham as "mummy". The first episode had Lydia Jane, a lawyer according to her Twitter bio, "creasing" with laughter:
Absolutely creased at #DefendingTheGuilty.

— Lydia Jane (@LydiaJane13) September 19, 2018
We also meet Packham's (overly competitive) fellow trainee barristers along the way. The quartet — who are given some rather amusing nicknames by the clerks in chambers including 'angry chav' — are more than willing to stab one another in the back as they vie for the single tenant position on offer. Chris Broom, a senior clerk at Gray's Inn Tax Chambers, is backing Packham.
Loving #MrPackham. He gets my vote on a tenancy #DefendingTheGuilty

— Chris Broom (@barclerk) September 19, 2018
But not everyone took to the show. KCH Garden Square criminal barrister Jonathan Dunne described it as "unbelievably awful" and "not remotely funny nor remotely accurate". Perhaps a nod to the missing 'sip test' by Packham when entering court.
Whatever #defendingtheguilty is, it is not a comedy. It is not remotely funny nor remotely accurate. God knows who wrote it. God knows who commissioned it. Unbelievably awful.

— Jonathan Dunne (@DunneJonathan) September 19, 2018
It was a dramatic request for the show to stop from Stephen Davies, a criminal defence trainee solicitor at Tuckers Law.
What. Is. This. Please. Stop. Now. #DefendingTheGuilty

— Stephen Davies (@sdavieslaw) September 19, 2018
Nottingham law grad Jade Russell didn't seem too keen either.
This show is awful ? #DefendingTheGuilty

— Jade Russell (@Jade_Russell) September 19, 2018
Earlier this year, we reported that Defending The Guilty, an adaptation of a book of a similar name by criminal barrister Alex McBride, has been commissioned for a full series. Speaking at the time, Shane Allen, controller of BBC Comedy Commissioning, said that "a terrifically vibrant and sure-footed pilot" made the decision to take the comedy to full series "very quick and easy".