Actors from Black Mirror, The IT Crowd and Game of Thrones star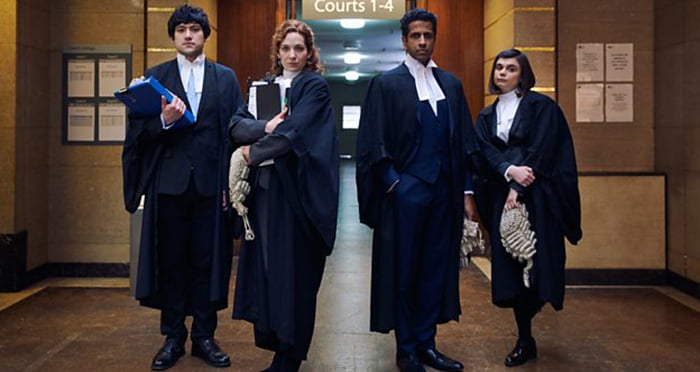 A new comedy about pupil barristers learning the criminal law ropes has been commissioned by BBC Two. Cast members include Katherine Parkinson (The IT Crowd, Humans), Gwyneth Keyworth (Black Mirror, Game of Thrones) and Prasanna Puwanarajah (Doctor Foster, Silk).
The TV programme, Defending The Guilty, follows bright-eyed young pupil Will (pictured far left), as he attempts to navigate through criminal law practice with the help of his pupil master, Caroline (pictured middle left).
Will isn't the only pupil at his set, and it seems his fellow trainee barristers are more than happy to stab each other in the back as they all vie for the one tenant position on offer. This storyline may resonate with aspiring barristers who know all too well how competitive the profession can be: this year, 2,089 bar hopefuls submitted at least one application via the Pupillage Gateway, which hosted just 224 pupillage spots.
Shane Allen, controller of BBC Comedy Commissioning, says that "a terrifically vibrant and sure-footed pilot" made the decision to take Defending The Guilty to full series "very quick and easy". He continued:
"There's a very universal theme of having high ideals when entering this professional world versus the cold hard, cloak and dagger reality of how the legal profession truly operates."
Defending The Guilty is based on a book of a similar name by criminal barrister Alex McBride, called Defending the Guilty: Truth and Lies in the Criminal Courtroom. McBride tells Legal Cheek:
"I am delighted and stunningly lucky to have 'Defending the Guilty' adapted by the brilliant Kieron Quirke and Big Talk Productions. It sure beats pleading cases in the criminal courts."
He may be right about that one: shortly after McBride's book was released, he wrote an article for Legal Cheek in which he admitted he would advise his younger self against the career path he chose. "The criminal bar can't offer much at all," sole practitioner McBride said, "if you want to own a flat — forget London — or have a middle class, professional lifestyle, you are in for a long wait." We wonder whether Will the pupil will feel the same way after his training.