She follows a long line of legally-minded beauty queens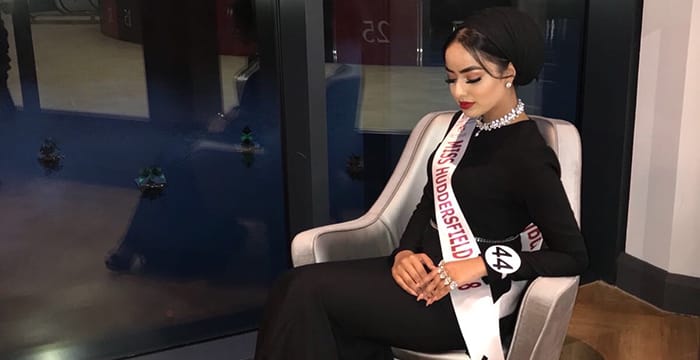 A young law student who recently won the title of Miss Huddersfield 2018 is set to become the first beauty queen to walk down the Miss England catwalk in a hijab.
Sara Iftekhar, who studies law at the University of Huddersfield, hopes to beat 49 other contestants and secure the Miss England crown in Nottinghamshire next week. Reports suggest she will be the first beauty queen to compete in the national competition wearing the religious head covering.
Sporting a neat black hijab on the Miss England website (below), Iftekhar stands a chance of representing England at the Miss World final in China in November.
Iftekhar, who has a clothing company which she started when she was just 16, has also been an Instagram star with a healthy following. On her recent victory at the regional heats, Iftekhar, told her Instagram followers:
"Wowwwwww!!!! I can't even comprehend how amazing it felt for my name to be announced as a finalist in the Miss England finals 2018! Alhamdullilah."
Beauty pageant contestants are strongly encouraged to do charitable works, for Miss England this is under the banner: "Beauty with a Purpose". Iftekhar has set up a Go Fund Me page and states:
"I participated in Miss England 2018 in order to show that beauty doesn't have a definition, everyone is beautiful in their own ways, regardless of their weight, race, colour or shape."
News of Iftekhar's success follows hot on the heels of University of Birmingham law graduate and aspiring barrister, Dee-Ann Kentish-Rogers (pictured below), who was crowned Miss Universe Great Britain just a couple of months ago. Kentish-Rogers completed her LLB in 2016 and went on to study the Bar Professional Training Course (BPTC) at The University of Law.
Last year, a Nottingham University law student and aspiring human rights lawyer, Anna Burdzy, got through to the Miss Universe finals.
As part of this latest Miss England competition, there is another law-related contestant among the 50 beautiful hopefuls: Priya Bagga, Miss Asian Face 2018, is currently a paralegal at national outfit Shakespeare Martineau having successfully completed her law degree with a 2:1.
Comments on this article are now closed.