The Apprentice: Law grad gets off to a shaky start after breaking arm wrestling another contestant
Just a week after the former ULaw LLBer forgot a candidate's name during a business pitch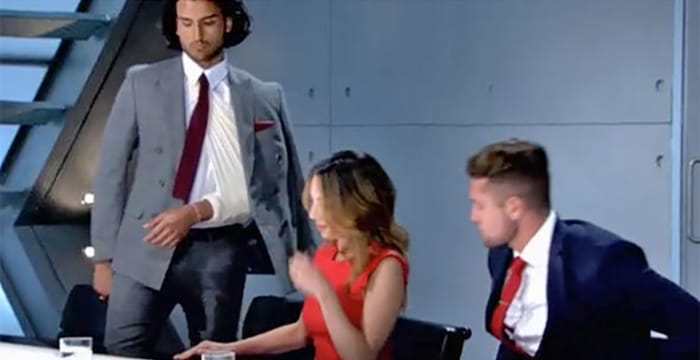 Despite his pre-show bravado, Kurran Pooni's first three weeks as a contestant on The Apprentice have been shaky to say the least.
Last night's episode (spoiler alert) saw the two rival teams tasked with baking and selling 'fashionable donuts'. Finding himself in a sticky situation, former University of Law (ULaw) student Pooni struggled to hold it together as he pitched a bespoke donut to an upmarket corporate client. Unfortunately, his team went on to lose the task after two-thirds of their donuts were rejected for their sloppy presentation and abnormal taste.
Things went from bad to worse for the aspiring commercial lawyer as he later entered the boardroom sporting a sling under his suit jacket. Pooni sheepishly admitted that he fractured a bone in his arm after challenging another contestant (who he didn't name) to an impromptu arm wrestle during some downtime back at the show's luxurious London mansion.
Lord Sugar — known for his bad jokes and cheesy one-liners — saw this as an opportunity to playfully roast the part-time actor. He said:
"I thought actors are supposed to break a leg? Well you finally got into a cast anyway. Got your big break. And from what I heard, you've appeared in Casualty also."
Pooni's injury comes just a week after he awkwardly forgot a team member's name during a business pitch for a new children's magazine. He was dragged back into the boardroom over his failings during the task, but was handed a lifeline by Lord Sugar after tax adviser David Alden was given his marching orders.
Pooni is not the only legally-minded candidate in this year's bunch of entrepreneurial hopefuls. Sarah Ann Magson, a 37-year-old solicitor at Watson Woodhouse Solicitors in Middlesbrough, has caught the attention of viewers over the past three weeks for her very distinctive face piercing.
Tried so hard to ignore Sarah's piercing but it's actually causing me physical pain #TheApprentice pic.twitter.com/g2HXeJOefD

— BritishTelly (@TellyBritish) October 10, 2018
I've little to say about #TheApprentice but is this piercing like, okay? I mean….? I just…. Erm…. pic.twitter.com/QvUZHluIr5

— Terri Lowe ? (@HelloTerriLowe) October 3, 2018