It is understood to be UK's first 'deadnaming' case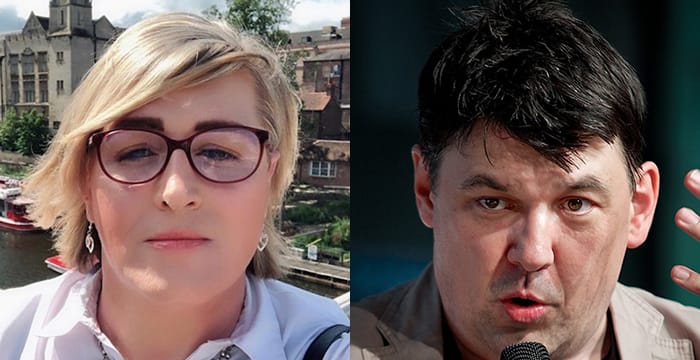 A transgender lawyer has filed a High Court claim against the creator of Father Ted after he allegedly referred to her on social media by her former male name.
Stephanie Hayden, a male-to-female transgender woman, is suing Graham Linehan, the co-writer of the popular British sitcom, for defamation and harassment after he allegedly published a series of tweets "deliberately misgendering" her.
Hayden claims Linehan's alleged actions amounted to "deadnaming", a known method of "abusing those who identify as transgender", according to court documents filed last week. Legal Cheek understands this is the first time a claim of this nature has been brought in a UK court.
Hayden, who describes herself on Twitter as a lawyer and current affairs commentator, claims Linehan "caused her distress" and that his actions were a "gross affront to her dignity as a woman".
Linehan is alleged to have made a number of defamatory tweets between the 26 September and 28 Setempber of this year. In one, Dublin-born Linehan reportedly wrote: "I don't respect the pronouns of misogynists, stalkers of harassers". In another, the comedy writer allegedly said: "Yes we must always be nice to con men, sexual predators and misogynists hijacking a noble movement for their own ends."
Hayden, a former legal executive, was born Anthony Halliday and began her transition to a woman in 2007. She was awarded her Gender Recognition Certificate (GRC) earlier this year and is now legally female. Meanwhile, Linehan created or co-created shows including Black Books, The IT Crowd and Big Train, and has nearly 700,000 followers on Twitter. His account is now protected.
The court documents also reference a recent interview Linehan gave to The Times newspaper, in which the 50-year-old described Hayden as "a dangerous troll" who disclosed details about his wife's business on Twitter to "shut me up".
Hayden told Legal Cheek: "A GRC holder has a right to confidentiality in respect of their previous gender identity. If a person acts in an official capacity and discloses such information it is actually a criminal offence under s.22 Gender Recognition Act 2004." She continued:
"What I say happened in this case is that a celebrity used his huge Twitter following to effectively 'out' who I used to be to a global audience… 'Deadnaming' as it is called is a recognised method of harassing and abusing transgender people. My claim is about drawing a line in the sand and making clear that these practices will no longer be tolerated."
News of the legal action follows reports that Linehan has been handed verbal harassment warning by police after Hayden issued a formal complaint. Linehan was told by West Yorkshire police not to contact the transgender activist after their bust-up on Twitter.
Linehan said he would speak to his lawyer today about potentially taking legal action against Hayden. He told The Guardian newspaper:
"The police asked me to stop contacting someone I had no intention of contacting. It was a bit like asking me to never contact Charlie Sheen. I will call all of my trans friends 'she'. I think of them as women, they are respectful and are not misogynists. But I refuse to respect the pronouns of misogynists."
Legal Cheek has approached Linehan for comment.
Comments on this article are now closed.