Substantial confusion on the law concerning work placements, social mobility report finds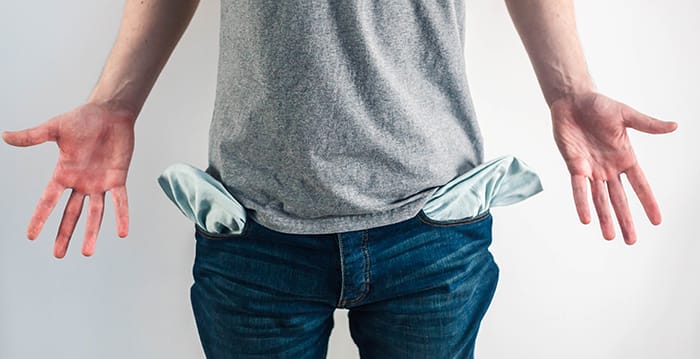 Almost 80% of interns working in law aren't paid, with many relying on family, friends and second jobs to get make ends meet.
The report, published by the Sutton Trust, a charity that campaigns to improve social mobility, showed that 54% of internships in the legal sector received no remuneration, while a further 17% covered expenses only. Eight percent paid less than the national minimum wage (NMW), currently £7.83 an hour for workers over 25.
This means almost 79% of internships in law are unpaid, according to the Sutton Trust, which defines all interns receiving no remuneration, expenses only, and wages below the NMW as unpaid.
There were substantial differences in pay levels interns received across sectors, according to the findings. Eighty-nine percent of internships in retail, 86% of internships in the arts (TV, theatre, film, fashion), and 83% in media were unpaid. This compared to just 26% of IT & telecoms and 32% of manufacturing internships.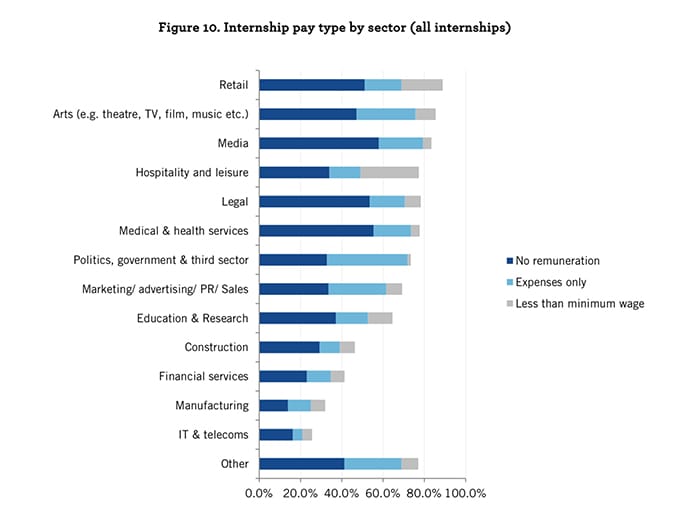 Accepting that there was "no precise" definition of an internship, the report, which is based on the responses of over 3,600 business leaders and graduates, allowed respondents themselves to define what they counted as an internship.
So how do students and graduates make ends meet during their unpaid positions? According to the research, a large proportion (43%) rely on living for free with family and friends to get by. Just over a quarter (26%) relied on money from their parents while a similar number (27%) had to work another paid job in order to fund their internship.
The report, Pay As You Go — Internship pay, quality and access in the graduate jobs market, also found that both graduates and employers were confused about the current law on unpaid internships. It said:
"Young people are not fully aware of their rights, and employers either unknowingly or deliberately take advantage of the legal grey area in order to not pay their interns. It is difficult to contest that most interns are likely to count as 'workers'. Employers have an expectation that the intern will turn up to work, and the employer provides it. Only a small proportion of interns could genuinely be classed as 'volunteering' or 'work shadowing', with no expectations whatsoever on them in terms of performing tasks."
The report comes just days after a bill to ban unpaid internships over four weeks in length was brought before the House of Commons. The proposed legislation originated in the House of Lords by Conservative peer Lord Holmes and is sponsored in the Commons by Alec Shelbrooke MP for or Elmet and Rothwell.