Opinion due on 4 December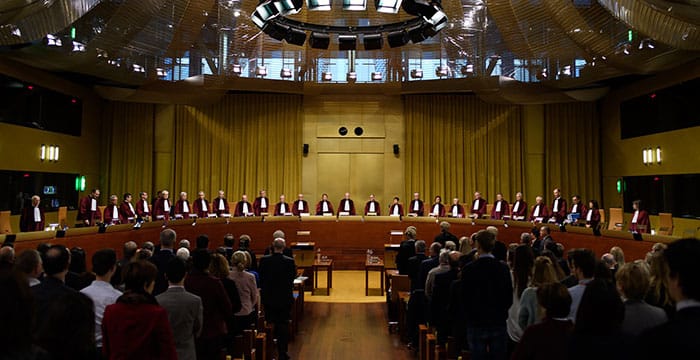 As support for a second referendum on Brexit gathers momentum, a crowdfunded case on whether or not Article 50 of the Lisbon Treaty, the one that triggers Brexit, can be revoked, has suddenly taken on greater importance.
The petitioners in the case, which was heard by the Court of Justice of the European Union (CJEU) yesterday before a whopping 27 judges, argue that the case will clarify what are the realistic options for MPs who will vote on Theresa May's 'Chequers Deal' on 11 December.
If the judges decide that Article 50 can be revoked and that if the UK were to do so it would be no worse off than before, then Brexit will have been just a "bad dream", argues Jolyon Maugham QC, the Devereux Chambers barrister who has spearheaded a number of Brexit-related challenges in the courts including the revocation case. "It is no exaggeration to say that this is a case that could decide the fate of the nation. It's not too late to wake up from the nightmare," Maugham wrote in The Guardian.
Though it is unlikely that the court will give its judgment before the MPs vote in a few weeks (Maugham anticipates a decision "before Christmas"), the court announced this morning that one of the court's legal officers, the Advocate-General, is due to give their opinion on 4 December, seven days before the fateful 11 December vote. These opinions, in accordance with CJEU procedures, are published before a judgment and are often an indication of the way the court is going to decide.
#Brexit: Case C-621/18 Wightman on revocation of Article 50 – Advocate General Campos Sánchez-Bordona will deliver his opinion on 4th December

— EU Court of Justice (@EUCourtPress) November 28, 2018
The UK government's position throughout the rather tortuous progress of this case (which originated in Scotland) is that this latest Article 50 case is politically motivated and dealing in purely hypothetical questions because revoking Article 50 is "not going to happen because it is not government policy" as May put it in the House of Commons earlier this week.
The case has been brought by a group of MPs, Scottish MPs and MEPs and is supported by the Good Law Project, the organisation run by Maugham. The Good Law Project is urging the public to use the revocation case as a means of persuading their MPs that remaining in the EU is a viable option for the UK.
The revocation case is by no means the only Brexit challenge in the courts at the moment. A High Court case which focuses on the official Vote Leave campaign and whether breaches of election rules relating to the campaign's funding means the referendum is null and void is due to be heard on 7 December.