BBC journalist spots dead rat in the Royal Courts of Justice
He's drawn a picture of the rodent to get round photo ban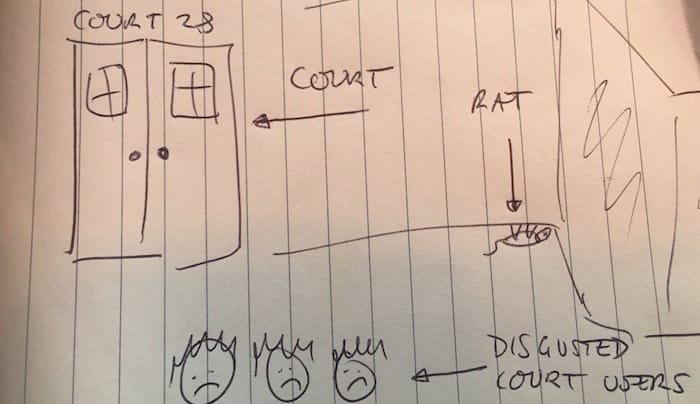 The BBC's home affairs correspondent has tweeted an impromptu sketch of a dead rat in the Royal Courts of Justice (RCJ) after a foul smell drew his attention to the rotting rodent's corpse.
Conscious that a photo of the creature would have risked contempt of court for breaching the ban on filming in courts, enterprising Dominic Casciani pulled out his pad and pen and drew this scene:
The dead rat is still there. I'd tweet a photo, but that's a breach of the law banning filming in courts. So here, for the one and only time, is my attempt at a court sketch: pic.twitter.com/Cz8RhMFy1S

— Dominic Casciani (@BBCDomC) December 4, 2018
Casciani's rat sighting comes after years of cuts to the courts and the legal aid budget, which has lost a third of its £2.1 billion funding since the 2008 financial crisis. In the meantime, prices of assets such as London property have soared amid 0% interest rates and central bank money printing.
What better symbol for the neglect of the justice system than a dead rat lying in the High Court?