Photoshop fail?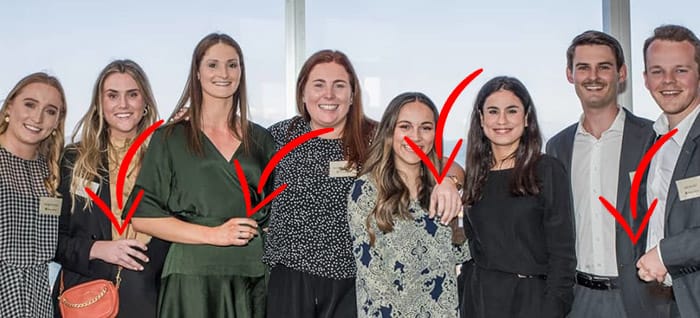 A photograph of rookie solicitors toasting qualification over a glass of bubbly has backfired thanks to the law firm's hyper-sensitive marketing department.
Posted by New Zealand law firm Simpson Grierson, the now-deleted Instagram snap showed a group of eight rookies celebrating qualification at an event put on by their bosses.
So far, so good, you might say. However, local news website Newsroom reports that in order to avoid "negative perceptions of the event", a member of the firm's marketing team photoshopped the drinks out of the newbie solicitors' hands following a discussion with others at the firm.
Unfortunately, the doctored image showed the newbies — all above the legal drinking age — awkwardly clutching the air alongside the caption: "Congratulations to our 2018 law graduates. This talented bunch was recently admitted to the bar — keep up the good work team."
Poncho Rivera-Pavon, a human resources consultant at Simpson Grierson, said the firm had taken the decision to erase the glasses because the event was about celebrating the young solicitors' achievements, not about them having a drink at work. He continued:
"We're very aware of sometimes the media misconstruing things and making it look like it's all about them having a drink at work. We wanted to make it all about their admission and how important it is for them, so we decided to remove them."