Incident was streamed live on Facebook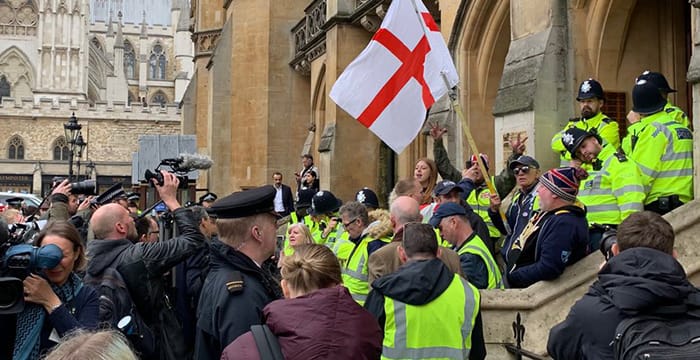 A group of protesters have stormed the Attorney General's office building in London.
Live video footage on Facebook shows a group of demonstrators in yellow vests, claiming to be inside Geoffrey Cox QC's office on Victoria Street near Westminster Abbey.
Early reports claim the protesters stood on the stairwell chanting "we want a new Attorney General", before knocking on an office door within the building, yelling: "Hello, the little people are here". It's unclear how they gained access to the building. Police are now at the scene.
Police were called at 1.45pm to reports of protestors inside the Attorney General's office, The Sanctuary, SW1, Officers are on scene and dealing. No arrests at this point. Update to follow.

— Metropolitan Police (@metpoliceuk) March 19, 2019
The footage was streamed on the 'Fighting for Justice' Facebook page, a group seeking justice for the three teenage boys who were killed in a hit and run in January 2018. The driver, Jaynesh Chudasama, was jailed for 13 years in March 2018 for three counts of causing death by dangerous driving.
The group, however, allege that the incident is actually a terrorist attack that is being covered up by the government, the Huffington Post reports. There is no evidence to support this claim.
The government's top legal adviser, Cox, is a commercial barrister who co-founded London's Thomas More Chambers in 1992. He is currently the Conservative MP for Torridge and West Devon.