New innovation LLB sees Exeter Uni students spend a year at Reed Smith
Placement roles in global outfit's London office up for grabs as part of four-year law degree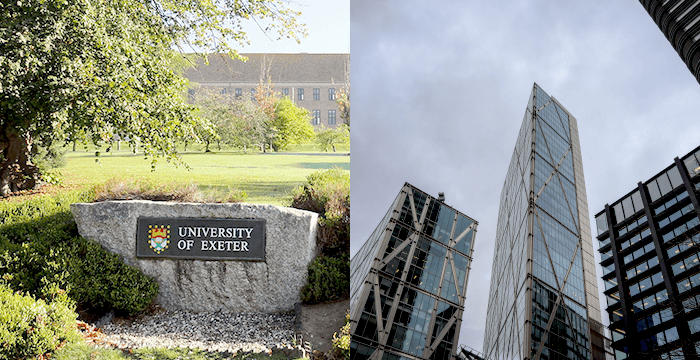 The University of Exeter has teamed up with US giant Reed Smith to launch a new LLB with an innovation-focused placement year in the firm's London office.
The four-year 'legal placement' degree is available to Exeter's existing first year law students, who will be the first to participate in the "immersive" City placement, expected to take place in the 2020/2021 academic year.
The new degree aims to prepare students for increasing "growth in legal innovation and technology". In particular, the course will address how tech-led change is altering the role of judges and lawyers; in addition to how tech can be used to widen access to justice, such as through online courts.
Students will then have the chance to put this knowledge to practice while working in Reed Smith's London office — which is the largest of all 28 offices across the globe. During their time students will be sat within two of the firm's practice areas and, with the support of their innovation hub and tech teams, will focus on designing new and improved ways of delivering legal services.
For now, up to five students from Exeter Uni will be chosen for the placement, which also comes with a guaranteed invite to Reed Smith's training contract assessment day. If successful, candidates will have bagged one of the 25 training contracts currently offered by the firm each year. It remains unclear how much participants will be paid during their 12 months at the firm.

Professor Sue Prince, from the University of Exeter Law School and director of the programme, said:
"The aim of this programme is to deliver law training in a different and more innovative way, which meets the requirements of students and the legal industry. This is more than just a placement, it gives students a real opportunity to experience the world of law firms."
This is the second time that Reed Smith has partnered with a Russell Group university to design a bespoke law degree. As reported by Legal Cheek, the US-headquartered firm teamed-up with Queen Mary University of London (QMUL) in 2015 to create a four-year sandwich degree — known as the 'Law in Practice LLB' — that also included a placement year in Reed Smith and a guaranteed training contract interview.
Lucy Dillon, chief knowledge officer at Reed Smith, commented:
"Innovation is one of Reed Smith's core values, and exciting initiatives such as these bespoke LLB courses with Exeter and Queen Mary form a key part of developing our next-generation of lawyers, with a well-rounded view of legal practice, innovation, available technologies and improved service delivery, all focused on a deep understanding of clients' needs."