'He's hired a big old law firm to basically destroy me', Femi Oluwole claims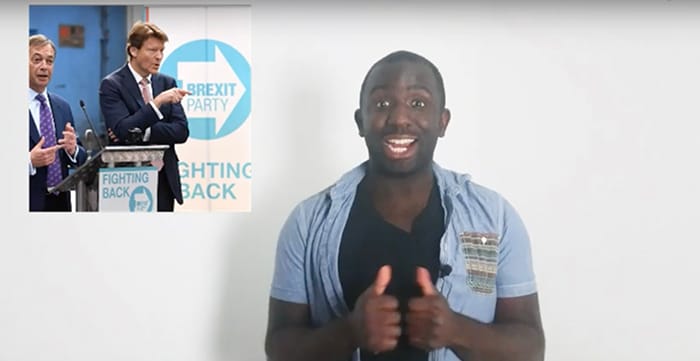 The chairman of the Brexit Party is threatening to bring legal action against law graduate and vocal Remain campaigner Femi Oluwole for calling Leave.EU an "anti-Jewish organisation" in a tweet. Legal Cheek understands that there are two further tweets made by Oluwole that have prompted Richard Tice to instruct lawyers.
In a video posted yesterday, Oluwole explains that he received a letter from Tice's lawyers, Wedlake Bell, requesting he delete the tweets. Tice, who co-founded Leave.EU in 2015 but left shortly after the referendum, also requested, again through his lawyers, that the Nottingham Uni law and French grad issue an apology and donate £10,000 to charity.
In one of the tweets referred to, posted last Friday, Oluwole wrote: "How have we allowed the Brexit Party to be seen as a tolerant party when its chairman, Richard Tice, founded an overtly anti-Jewish organisation?" The Darlington-born campaigner, who Legal Cheek interviewed earlier this year, was responding to a tweet from Leave.EU, which depicts Jewish billionaire George Soros controlling former prime minister Tony Blair like a puppet.
According to the Guido Fawkes blog, Tice left Leave.EU in June 2016. The tweet Oluwole highlighted was published over two years later in October 2018.
Elsewhere in the video, Oluwole directs viewers to a crowdfunding page which he stresses isn't to cover any future legal fees, but instead help fund Our Future Our Choice (OFOC), a pro-EU advocacy group he founded in 2017. This, the page explains, "will annoy [Nigel] Farage and his money man Tice far more!" Almost £11,000 has been pledged so far.
In response to the letter, Oluwole, who has called on the services of London media lawyer David Price QC on a pro bono basis, told Legal Cheek:
"The defence of honest opinion is clear. It has to be an opinion and a statement about the attitudes of an organisation — so it can only be an opinion. I have to indicate the factual basis of my opinion, and I did because I quote-tweeted the [allegedly] anti-Semitic tweet. And it has to be the case that an honest person could come to the same conclusion on the same facts. And given all the comments under the original tweet were calling it anti-Semitic, I was not alone in thinking this."
Tice told the Evening Standard there was "no substance to the allegations whatsoever" and added that a "substantial and significant claim is being prepared by our lawyers and counsel and will be issued in short due course".
Tice and the Brexit Party have been approached for comment.