Warming up for return to the bar?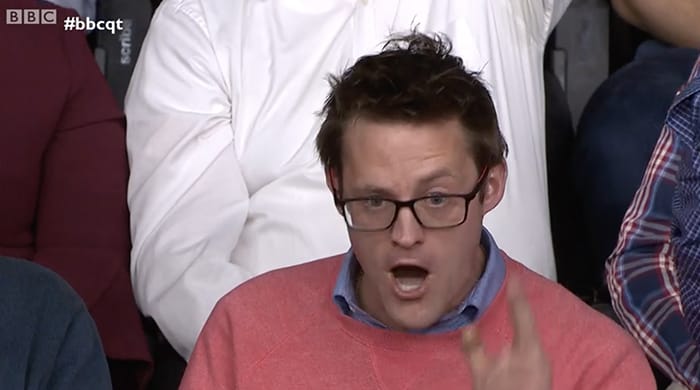 A barrister under suspension for drug possession has gone viral following a rollicking pro-Brexit rant on BBC Question Time last night.
Henry Hendron was in the Question Time audience when he let rip against supporters of a second EU referendum, accusing politicians of failing to respect the result of the first.
In April 2017, the Bar Standards Board suspended Hendron from practice for three years following a drug conviction.
But Hendron's advocacy skills are not going to waste in the meantime. The once and future barrister cheered fellow Leavers by reminding the audience "We had a referendum. That wasn't meaningless — or was it? If we have a third referendum or a second referendum, where does it end? Why don't we just honour what the people voted for and then take a view about whether it was right or wrong?"
'It is nothing but sheer arrogance of people that have lost, and people that want to subvert democracy'
This audience member says he is against another referendum on leaving the EU. #bbcqt pic.twitter.com/0kRDEwo4Dz

— BBC Question Time (@bbcquestiontime) March 14, 2019
As parts of the TV audience whooped and cheered, an animated Hendron went on:
"It is nothing but sheer arrogance, arrogance of people who have lost, people who want to subvert democracy… get on with what the people voted for. People voted for a reason. It will be the end of democracy in this country if we can't honour what parliament said that they would do two years ago."
"We only need more time because you failed, gentlemen, you failed", Hendron added, addressing the MPs on the panel. He went on retweet praise from Twitter users delighted with the intervention of "pink jumper man".
Who is pink jumper man? I need to marry him and have his babies… what a hero ? #bbcqt

— pusykat (@pussycatt1989) March 14, 2019
But thousands of others shared tweets pointing to Hendron's previous conviction and Conservative Party connections.
This 'audience member' is Henry Hendron – an ex-barrister currently prohibited from practicing law who has previously represented Brexit MPs Nadine Dorries & Nigel Evans, and who spoke at the Tory Conference in 1998.#bbcqt.

Meanwhile, members of the public can't get tickets. https://t.co/FLkkDVTPgS

— Martin O'Lowery (@martin_lowe) March 15, 2019
Student favourite Catherine Barnard, a Cambridge law professor, was also on the panel, winning plaudits from viewers surprised to see an actual expert on the notoriously raucous discussion show.
Hendron was arrested in January 2015 after his boyfriend, Miguel Jimenez, was found dead with drugs in his system. He later pleaded guilty to possession of controlled drugs — "chemsex" substances methedrone and gamma-butyrolactone — with intent to supply and was suspended for three years, backdated to May 2016. That means he can return to practice in a matter of weeks.
In May 2018, Legal Cheek reported that Hendron had taken to Facebook to sell £4,000 "legal advice for life" packages, to commence from the date he resumes legal practice.
Hendron has been approached for comment.