Traffic brought to a standstill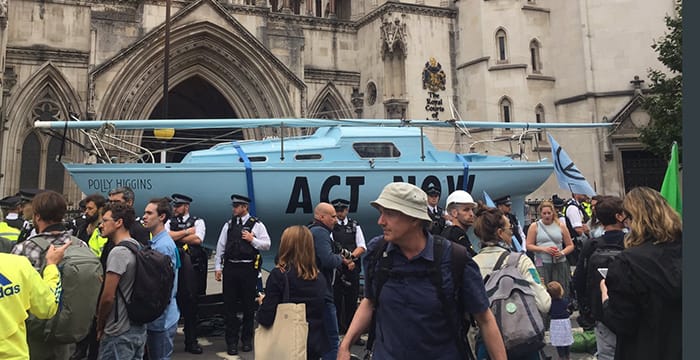 The environmental activist group Extinction Rebellion has parked a boat outside the main entrance of the Royal Courts of Justice (RCJ).
Arriving outside the historic building this morning, the blue yacht bears the name of Polly Higgins, a Scottish-born barrister turned environmental lobbyist, who sadly passed away earlier this year.
The protest is just one of a number of demonstrations taking place this week across London, Cardiff, Leeds, Bristol and Glasgow. Calling for greater government action on the climate crisis, Extinction Rebellion has positioned large boats at each protest, emblazoned with the message "Act Now!"
London #ExtinctionRebellion! The @PollyHiggins boat pic.twitter.com/wwFoiNyF0A

— Extinction Rebellion UK ☀️✊ (@XRebellionUK) July 15, 2019
At one point a protestor could be seen creating giant bubbles as she stood on the deck of the boat, while others performed yoga or meditated in the middle of the road, bringing traffic to a standstill.
Rather different Monday morning look to the RCJ in London's this morning.. pic.twitter.com/SdSeMmOUTG

— alex thomson (@alextomo) July 15, 2019
"A beautiful armada of rebel boats is taking to the roads across key cities now," the group wrote in one tweet. "It's a pity it has come to this but amazing that citizens are standing up with courage, creativity and deep resolve."
The boat's arrival at the RCJ comes after the eco-group staged an 11-day protest in April that brought central London to a standstill.