Legal Twitterati sent into overdrive after former PM threatens to take Boris Johnson to court to stop a no-deal Brexit
John Major says he'd consider lawyering up to stop the Queen suspending the House of Commons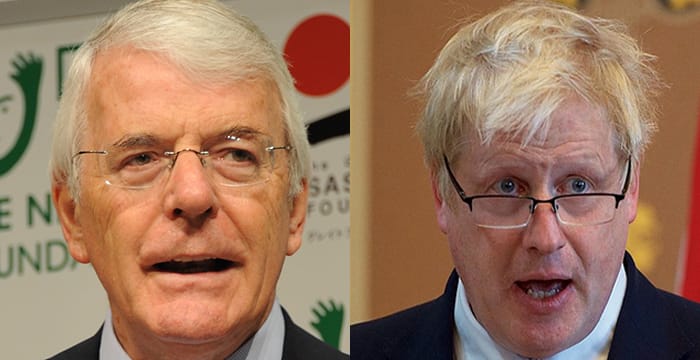 A former Prime Minister has threatened to take his likely successor, Boris Johnson, to court if he tries to suspend parliament to ensure a no-deal Brexit — and it's set legal Twitter ablaze.
Sir John Major, the Conservative Prime Minister from 1990 to 1997, said this morning that he would personally take a case to stop Johnson "proroguing" the House of Commons. Johnson, heavy favourite in the Conservative leadership race, has refused to rule out cancelling parliament if it tries to stop Brexit going ahead on 31 October.
Constitutional expert Professor Vernon Bogdanor has said that getting parliament prorogued, or suspended, would be legally "straightforward". The Queen has the power to do so, and would go with the advice of her Prime Minister if he requested her to exercise it.
But Bogdanor said that getting Her Maj involved in politics like that would "would stretch the constitution to its outermost limits, if not beyond".
In an explosive BBC interview today, Major said:
"The Queen's decision cannot be challenged in law, but the Prime Minister's advice to the Queen can, and I for one would be prepared to go and seek judicial review to prevent parliament being bypassed."
As the BBC's political editor pleaded for lawyers to weigh in on whether the case would be feasible, many obliged. Charlie Falconer, a former Labour Lord Chancellor, took to the Twittersphere to claim that "most lawyers" think a judicial review along those lines would succeed.
John Major says he would apply for an immediate Juducial Review against the Prime Minister preventing him advising HMQ to prorogue Parliament to facilitate No Deal. JR would succeed most lawyers think ( see eg Lord Pannick). ??? to John Major.

— Charlie Falconer (@LordCFalconer) July 10, 2019
In the same corner is top QC David Pannick, who wrote last month that the High Court would be likely to declare the move unlawful.
And Professor Bogdanor, reached by Legal Cheek this morning, reckoned that the case "might well" succeed. He added that "while there is no precedent for reviewing the advice of the PM to the sovereign, it is clear that prerogative powers in general can be reviewed for unreasonableness, bad faith, or for subverting the powers of Parliament. The key cases are the Council of Civil Service Unions case in 1985 (judgment of Lord Browne-Wilkinson) and the Fire Brigades Union case of 1995″.
But legal commentator David Allen Green tweeted that the chances of the case succeeding would be "zero".
Unless there is some odd aspect of constitutional law unknown to me, or some startling legal submission I cannot imagine, the chances of the High Court granting a remedy so as to prevent Parliament being prorogued are…

…zero

Not justiciable, and no remedy even if it were https://t.co/quRcZR008J

— David Allen Green (@davidallengreen) July 10, 2019
Meanwhile, acerbic but anonymous academic SpinningHugo debated with Open University lecturer Carl Gardner. Gardner argued that the Supreme Court "would (rightly) see the advice as constitutionally improper and so (less obviously rightly) unlawful".
Sam Fowles of Cornerstone Barristers has written on the UK Constitutional Law Blog that a judicial review could be successful in theory, although it's less obvious what remedy the courts could grant.
Major added that suspending parliament to get his own way was a favourite tactic of King Charles I in the 1640s — "and it didn't end well for him".