Strict rules regarding alcohol, drugs, sex, smoking and contact with the outside world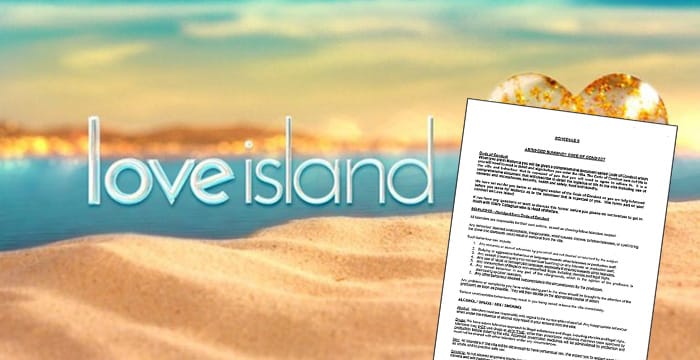 Despite some of the crazy antics contestants have got up to over the years, the Love Island villa is a strict environment carefully controlled by the show's producers — the extent to which has previously remained fairly hush-hush until now.
An official document (below) setting out the behaviour all Islanders must adhere to before, during and after their time on the sun-soaked dating show has been made public. It is part of a trove of documents ITV, which produces the show, has handed to parliament as part of a wider inquiry into reality TV following the tragic deaths of former contestants Mike Thalassitis and Sophie Gradon.
The so-called 'behaviour contract' is an abridged version of a comprehensive code of conduct form Islanders must sign before entering the Spanish villa. Legal Cheek has picked out some of the juicy bits:
The contract sets out that "any behaviour deemed unacceptable, inappropriate, which causes distress to fellow Islanders, or could bring the show into disrepute" could result in a contestant's removal from the villa. Behaviour as such includes unwanted romantic or sexual advances, bullying or aggressive behaviour, use of racist or homophobic language and any sexual behaviour that is, in the opinion of producers, distressing to other Islanders.
The document touches on the topic of sex further and states that all Islanders are old enough to have consensual sex and that producers expect them to "respect each other as adults and to practice safe sex". It goes on to add that producers can intervene if anyone is behaving in an inappropriate manner whilst engaging in sexual activity.
There are strict details regarding the consumption of alcohol and illegal drugs, and smoking is only permitted in designated areas with Islanders having to keep ciggies and other paraphernalia off-camera.
There is, according to the document, a ban on "contact with the outside world" and Islanders have no access to their mobile phones or to their social media. Instead, a dedicated welfare team will keep Islanders' families posted regarding their wellbeing, and following completion of the show, contestants are "expected to commit to the Aftercare process".
Only two contestants have been removed from the villa in the popular show's four-year history. Malia Arkian was hastily removed in series two following a physical spat with a fellow contestant and more recently, Sherif Lanre was reportedly axed for kicking an Islander in the groin and later making a crude joke about the action.
Last month we revealed Leeds Beckett law grad Lavena Back entered the villa as part of a twist which saw six new single boys and girls attempt to couple-up with the existing Islanders to keep their place on the hit show. Finding a potential love interest backfired for Back and she was dumped from the island on Wednesday.
The 'behaviour contract' (abridged version):