'Legally Brunette' Rosie shares insights into her very glam life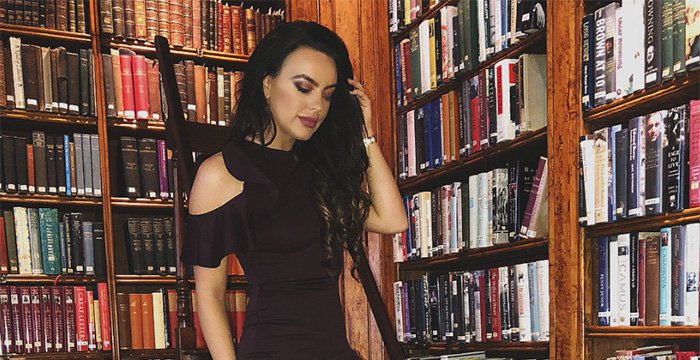 Since leaving the Love Island villa, Rosie Williams has been rubbing shoulders with reality TV's finest, making club appearances and has even done an interview with Piers Morgan. It's a long way from her old life before she shot to stardom in the hit reality TV show.
Williams trained with Manchester law firm Just Costs Solicitors and was only three months qualified before she entered the Spanish villa in June — a decision fuelled by her search for romance.
Indeed, studying law gave her little time to find love. She didn't have much luck either; having been dumped by the man she was seeing only a few months prior to joining the show. So when the chance to go on Love Island came about she grabbed it — strutting into the villa in the first week of the fourth series.
Growing up, law was "embedded" in Williams' family. Both her parents studied law at university and her aunt is a barrister and uncle a solicitor-advocate. They were naturally supportive of her decision to study law and Williams went on to complete the first two years of her undergraduate degree at Swansea University and spent her final year at the University of South Wales. She then started the Bar Professional Training Course (BPTC) before switching to the Legal Practice Course (LPC) at The University of Law in Chester.
Having completed a training contract, why then did she decide to put her fledgling career on hold? Speaking exclusively to Legal Cheek, she explains:
"I was putting everything into my job to the point where my salary was not worth the hours I was working. My focus on cases meant that my social life dwindled and I was just not reaping the rewards. It's a bit of a shame that what I worked towards my entire life and dreamt about didn't match up with the reality."
But Williams isn't ruling out a possible return to the law. "My heart's still in it — it was a lifelong ambition I harboured since I was 12-years-old. I'm still very much a legal eagle," she adds. Williams is hoping to meld her legal knowledge with her newfound fame. Her appearance on Love Island might not be the last we see on our screens. The Welsh-born lawyer tells us she's currently in talks to appear on a new legal TV show later this year. Could Rosie be the new Rinder? "I hope so. I love Rinder, I think he's great," says Williams, who has also been approached by a media law firm about a possible job since her departure.
When she was lounging around in her bikini soaking up sun rays in the villa, Williams says she did miss the day job and "getting dolled up" each morning to go to work — more than she thought she would. Yet she conspicuously avoided talking about her life as a lawyer — unlike the medic contestant Alex, who frequently references his work as a doctor. Why did we not hear more from 'Rosie the lawyer' in the villa? "I was very careful about what I discussed in the villa. Solicitors' regulations meant that I had a code of conduct and ethics to adhere to and client confidentiality meant I couldn't discuss my caseload," she explains.
Viewers did, however, get to see some of Rosie's advocacy skills when she confronted "sneaky" Adam Collard, who she was coupled up with, for flirting with fellow Islander Megan Barton-Hanson.
The fiery showdown was entirely "off-the-cuff", contrary to members of the public thinking it was "staged" or that she had written down and rehearsed what she planned to say. "You can't plan an argument," says Williams, likening the experience to the courtroom where "the judge or your opponent will throw something up" and it's down to you to bounce back.
Had the offer to appear on Love Island not come through, the 26-year-old thinks she'd still be in her job. "I loved my job, but I've never been the girl to sit around and I'm always looking for something more," she says. Williams has plans to complete her higher rights of audience and train as a solicitor-advocate, following in her uncle's footsteps. She'll also be taking on activities to maintain her practising certificate.
Since exiting the villa, Williams has managed to find the time to visit her former colleagues at Just Costs. They didn't know that she was entering the villa, so seeing her on TV was a bit of a "shock" to them. However, they were "very supportive" when she saw them and admitted they knew "she was never made to sit behind a desk".
Now having amassed over 650,000 followers on Instagram, Williams is hoping to use this platform to "make a difference" and already has a list of charities she wants to work with.
Her influence doesn't stop there. Williams, who refers to herself as "Legally Brunette" in several of her Instagram posts, says she's received messages from young women in law school seeking her advice. They're keen to hear from someone who does not fit the average solicitor-mould.
That's something this self-confessed party girl prides herself on. Williams counts Legally Blonde and TV series Ally McBeal as two of her favourite legal dramas. "I was drawn to the glamour. I loved their outfits," she says. For likeminded law students Williams offers some practical advice:
"Never change yourself to fit a stereotype. We all sit the same vocational exams and it's practically the same route for everyone looking to become a solicitor. So why should I be judged if I like to wear a pretty dress and post bikini photos on Instagram. I've had to work a lot harder to be taken seriously in my job but if I can make it as I am, there's no reason why others can't either."
With newfound fame comes dangers. It has been widely reported that Williams received a series of threatening messages from an online troll. Never one to back down, Williams says she will be using her legal knowledge to make a stand and show this behaviour is not acceptable.
Commenting on her interview with ITV Good Morning Britain host Piers Morgan where Williams was forced to justify her decision to appear on the show, she says:
"I think Piers was under the impression that the job is very well paid and glamorous across the board. He mustn't read a lot about what's going on and there is a lot that people outside the profession don't see. I think his opinion was ill-informed and don't think he can really have one unless he's been in my shoes."
Since then, research by a leading economics consultancy has been released that shows appearing on Love Island boosts your lifetime earnings more than an Oxbridge degree, further vindicating Williams' decision to go on the show.
In that Piers Morgan interview, the junior lawyer described working 18-hour days getting sleepless nights. So what advice can she give others experiencing the same? "Make sure you're happy otherwise there's no point staying in your job. But if you want more out of your job — go and get it. A law degree opens up many paths and it's not only about making it as a lawyer."
Williams was evicted after two weeks in the villa, but with the final airing on Monday, she'll be watching to support fellow housemates, Jack and Dani, the "down to earth" duo she's hoping will win.
Comments on this article are now closed.