Loved-up Irwin Mitchell duo met five years ago during a land law seminar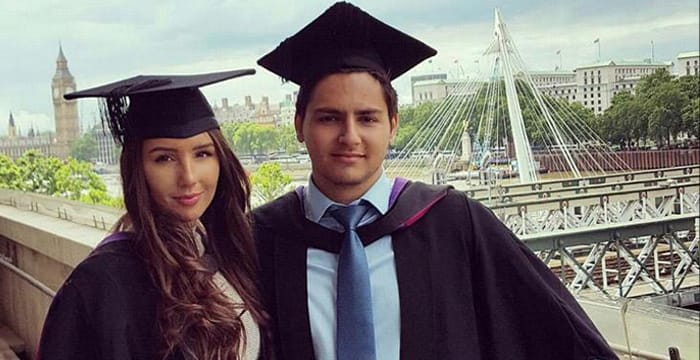 Two romantically paired paralegals that first met during their law degrees have gone on to secure training contracts together at Irwin Mitchell.
Speaking to Legal Cheek, Kaz Khan, 25, and Phoebe Smart, 24, who both work as paralegals in the national outfit's Birmingham office, said they were both overjoyed at the news that their training applications had been successful.
"We both knew that it's so hard to get, so was it ideal for just one of us to get it. I never thought in a million years it would happen. It's unbelievable," Smart said. "It doesn't actually feel as though it's happened. I'm absolutely so grateful and so happy," Khan added.
The couple's TC success comes five years after they first met at the University of Westminster in London. Put together in a land law group project, the then second year LLBers soon bonded over coursework during long nights in the law library. "The coursework went really well. So, we thought: 'Why not just keep working together?' And it just went from there," Smart recalled. In their third year, the couple moved in together.
After graduating, the duo moved up to Birmingham — closer to Smart's home in Staffordshire. In 2016, Khan became a paralegal in Irwin Mitchell's international injury practice and was later joined by Smart who secured a paralegal role in the firm's clinical negligence team.
There are, according to the couple, several perks to paralegalling together — with good company during the daily commute, shared coffee breaks and frequent lunch dates being among them. The two can even swap advice where their practice areas occasionally overlap. Still, they both enjoy having, as Khan described, "our own thing, our own niche, with our own separate circle of friends and colleagues". Smart added: "In then nicest way possible, we're on separate floors and it makes all difference."
The soon-to-be rookie solicitors applied for a training contract roles at Irwin last year, but both narrowly missed out. So are two heads really better than one when it comes to applications? Smart told us:
"We could bounce ideas off each other: 'What do you think about this?', 'Have you thought about that?' And it was nice to have someone who knows what you're talking about in preparation for assessment centres. But, because we're in different teams and have different experiences, our applications were so different."
Despite the cut-throat competition among aspiring lawyers for highly sought after training contracts, there was little contest between the twosome. "So many people ask about it: 'Oh god, it must be so hard! Does it spread into the relationship?' But honestly every time someone's asked me, I've said no," explained Smart.
They were also unfazed by the fact they could have been vying for the same spot. "We view ourselves as one unit, one team. So if one of us would have got it, it would have been a win for the team," Khan explained.
This team spirit, however, was tested when their first applications were unsuccessful. "We had just completed the transaction on our new house, so it was a bittersweet day," Khan recalled. Yet, the couple were quick to move on. Smart said:
"There's no doubt that it's hard. You have to take a moment to have time to yourself, reflect and accept it. Then as a team, you say, 'Okay we didn't get it, we had that setback. But how can we move forward and get back up again?"
Following their recent training contract success, the two paralegals are set to begin the Legal Practice Course (LPC) at the University of Law in Birmingham this September in preparation for their training contract start in August 2020.
Comments on this article are now closed.