Yours for just £565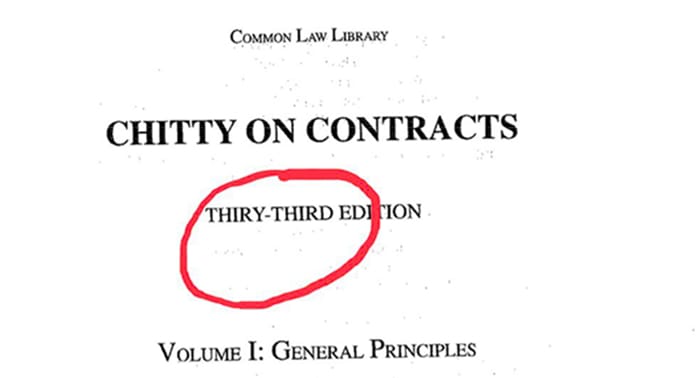 Any lawyer worth their salt will tell you that a typo in a contract, no matter how seemingly inconsequential, can have serious legal ramifications for the parties involved.
So it's somewhat ironic when the contract law experts (self-confessed sticklers for accuracy) fall foul of an unfortunate typo themselves.
Spotted by barrister Jamie Susskind, this latest example is courtesy of Chitty on Contracts — one of the leading textbooks covering English contract law.
Susskind's tweet shows that the typo appears on one of the very first pages of the two-volume book, a hard copy of which will set you back a hefty £565.
The editors of Chitty showing the precision for which commercial lawyers are famed

TBF the book only costs £565 pic.twitter.com/hu3Oj0Z0Yz

— Jamie Susskind (@jamiesusskind) November 4, 2019
Yep, that's right. Chitty on Contracts is now apparently on its "Thiry-Third Edition".
Responding to the tweet, academic librarian Andy Horton quipped that "Old man Chitty is going to be so annoyed when he sees that", while Liz Slade, a freelance lawyer, wrote: "As a contracts lawyer, may I just say… hahaha".
The book's publisher, Sweet & Maxwell, has been approached for comment.