More than half fail to score above 50%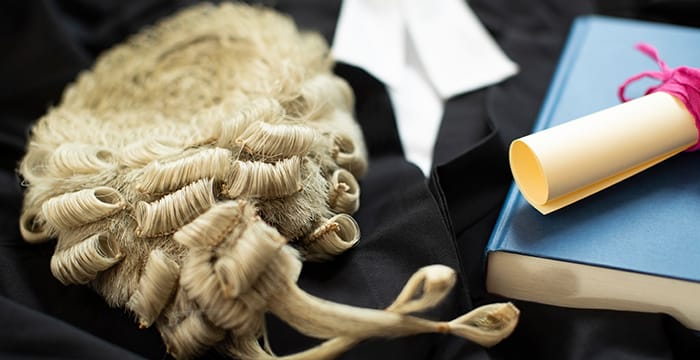 Average Bar Training Course (BTC) pass rates among providers range from as high as 93% to as low as 22%, new statistics released by the Bar Standards Board have shown.
The BSB chair's report analysed over a period of two years the performance of 20 bar education and training centres in the centralised exams — criminal litigation and civil litigation.
The Inns of Court College of Advocacy (ICCA) has the highest average pass rate across both litigation assessments and all sittings to date at 92.5%. The ICCA is "way ahead" the other centres in terms of cohort performance, the report states, with the gap between it and the second-placed Leeds branch of The University of Law being greater than 31%.
Hertfordshire University, according to the BSB, scored the lowest average pass rate across the two subjects at just 21.5%. More than half of the 20 providers failed to score above 50%.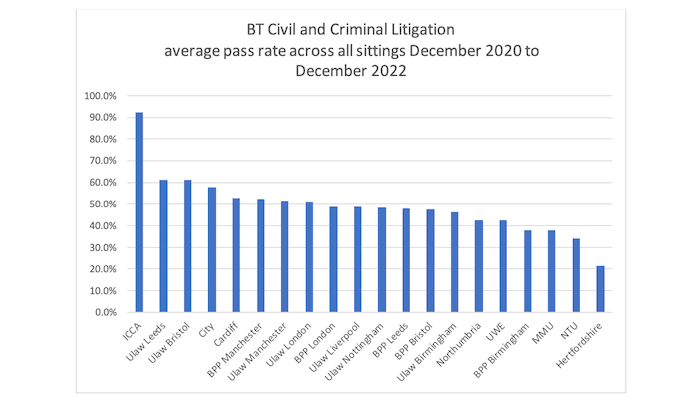 Commenting on Hertfordshire's pass rate, law school dean Penny Carey said: "We are extremely proud that our cohort of students are a mixture of international, widening participation and Black, Asian and minority ethnic background students, and that we provide an accessible, flexible and affordable pathway into this profession that is helping the bar to diversify."
She added: "We always knew these first set of exams would be challenging for this group but are confident that through the high quality teaching provided at Herts, they will reach the level required to pass them and graduate ready to begin long and successful law careers."
The data encompasses the results of the first sitting of the new bar course exams in December 2020 until the most recent in December 2022. It has been "adjusted to allow for the fact that some [providers] may not have had candidates for some sittings". Hertfordshire, for example, entered candidates for the first time in the December 2022 sit.
Further, the report advises caution when comparing different providers over a period of time as the size of their cohorts "can vary hugely from one sitting to the next, resulting in a high degree of volatility". The figures may also include re-sit attempts.
In total the data shows 12,380 students have sat exams under the new bar training regime, with just over half (53%) making the grade. The Bar Training Course (BTC) replaced the Bar Professional Training Course (BPTC) in September 2020, with the first exams undertaken in December of that year.
In a separate report, the BSB indicated that average course fees from 2020 onwards have decreased quite substantially compared to the fees previously charged for the BPTC. The average cost per bar student (adjusted for inflation) was £14,000 in 2022, compared to £18,700 in 2019, a saving of £4,700.