First KC ceremony in 70 years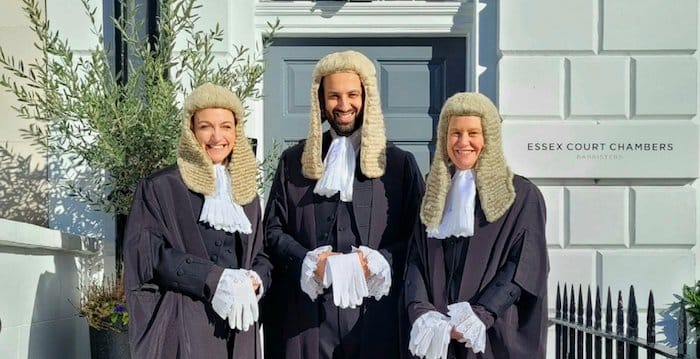 The Westminster swearing-in ceremony where top barristers are formally appointed King's Counsel took place earlier today and barristers and chambers alike have been busy on social media celebrating the special occasion.
Silk Day saw the new KCs donning full bottomed wigs, ceremonial robes and silver buckled shoes, while the eye-catching white silk gloves that complete the ensemble are only meant to be held.
The ceremonial tradition dates back to 1597 when the first QC was appointed by Queen Elizabeth I. The passing of Queen Elizabeth II last September was the first time after her 70-year reign that QCs became KCs once more.
The process is pricey, with applicants coughing up £2,370 just to be considered by the appointments committee — a panel of senior lawyers, a retired judge and non-lawyers. A successful application will set applicants back a further £3,990 in appointment fees.
This year, out of 279 applicants, 95 received the coveted KC title. Of those just 36 (38%) are women, leaving men to scoop up the other 62 percent of awards. This was despite a record number of women (77) making applications in this round.
Here's a round-up of tweets from the barristers taking silk today:
The day is finally here!! Many congratulations from all @OldSqChambers to @EleenaMisra and @NadiaMotraghi who will be sworn in as silk today following a ceremony at Westminster Hall. #newsilks #KC2023 #KCs pic.twitter.com/mqM4TBnA2F

— Old Square Chambers (@OldSqChambers) March 27, 2023
Stunning weather for #silksday pic.twitter.com/8pM1PA7bKz

— Alexander Chandler KC (@familybrief) March 27, 2023
It's official: Shaun Spencer KC!

Everyone at Chambers is delighted to congratulate Shaun on his fantastic achievement following his appointment at Westminster Hall today. #SilksDayhttps://t.co/60IvdUM0gr pic.twitter.com/gEB6LrDZrL

— St John's Buildings (@SJBnews) March 27, 2023
☀️ 𝗦𝗶𝗹𝗸'𝘀 𝗗𝗮𝘆 𝟮𝟬𝟮𝟯 ☀️

A beautiful day for those being sworn in today as King's Counsel.

Congratulations to Serle Court's Dan McCourt Fritz, one of the 95 barristers and solicitors being bestowed with the title from His Majesty King Charles III today. #silksday #KC pic.twitter.com/NdcWo9EP8a

— Serle Court (@CourtSerle) March 27, 2023
We are hugely proud to congratulate Andrew Roy who will be formally sworn in as King's Counsel at today's ceremony before the Lord Chancellor at Westminster Hall.

Andrew is the 15th practising silk at 12 King's Bench Walk.#silksday2023 #silksday pic.twitter.com/d1lC7bLrJ6

— 12 King's Bench Walk (@12KBW) March 27, 2023
Huge congratulations to Louise MacLynn KC who has been sworn in as King's Counsel today at a ceremony at Westminster Hall.

Everyone at @1GCFamilyLaw is delighted to celebrate this achievement with her. #silksday2023 #silksday #newsilk pic.twitter.com/Q7N2C2nyZD

— 1GC Family Law (@1GCFamilyLaw) March 27, 2023
A huge congratulations to Luke Pearce who is sworn in as King's Counsel today at the Silks ceremony in Westminster Hall. Sir Michael Wood also receives a very well-deserved honorary KC appointment.

Well done to all the 2023 Silks! #SilksDay2023 #KC #KingsCounsel pic.twitter.com/MP9cUJliRk

— Twenty Essex (@TwentyEssex) March 27, 2023
Members of Essex Court Chambers are celebrating the appointment of three new King's Counsel appointments today.

Ruth den Besten, Siddharth Dhar and Angeline Welsh will be sworn in as Silk at a ceremony taking place today at the Palace of Westminster.#silksday #kingscounsel #KC pic.twitter.com/UeHBhWFkEq

— Essex Court Chambers (@EssexCourtLaw) March 27, 2023
Iris Ferber KC and our Director of Clerking, Steve Sheridan, at Westminster Hall ✨ #SilksDay2023 pic.twitter.com/TS5zNbBPt9

— 42 Bedford Row Chambers (@42BR_Chambers) March 27, 2023
#silksday2023 cars at the ready pic.twitter.com/ZMPAyxVrMQ

— Roger Blagg (@Tash_Media) March 27, 2023
We're delighted that some of our juniors were able to get down to London to support @AnnaMorrisGClaw on #silksday2023 along with our Head of Practice Management.
Thanks @gardencourtlaw for the venue. pic.twitter.com/8iH4qi1BoY

— Garden Court North (@gcnchambers) March 27, 2023
We warmly congratulate @KuljitBhogal who has been appointed King's Counsel today at the Silks Day ceremony at Westminster Hall.

Learn more about Kuljit's practice here: https://t.co/YWrnVdbP59 pic.twitter.com/KP9xsvjf5F

— Cornerstone Barristers (@cornerstonebarr) March 27, 2023
Congratulations to all those who received their title today.