British Transport Police say they were acting on intelligence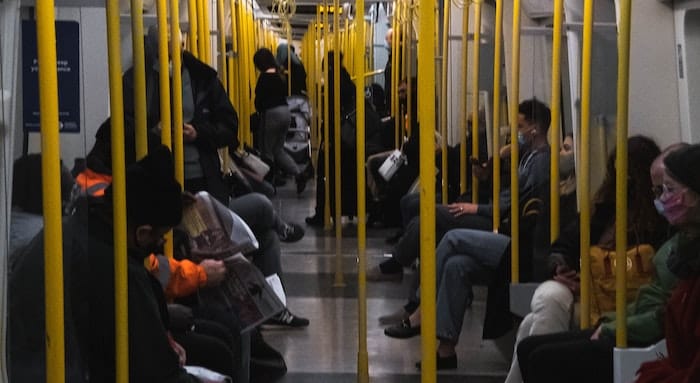 A Black paralegal says he "felt vulnerable and targeted" after being stopped and searched by police officers for "looking suspicious" while on his way to visit a client.
Eldred Taylor-Camara, a caseworker for a London-based solicitors firm, was traveling to HMP Lewes in East Sussex when officers from British Transport Police (BTP) stopped him at a railway station on 24 October.
Officers asked him what the purpose of his journey was, and further questions relating to its times and locations, Taylor-Camara told The Independent newspaper. When he asked the officers for an explanation as to why they had stopped him, Taylor-Camara says they told him he looked "lost" which "raised their suspicion".
The paralegal, who was wearing a suit at the time, said the experience made him feel "felt vulnerable and targeted," and that he was "concerned by the glaring mistakes" by officers "purportedly acting on intelligence".
The police said they had received "intelligence" and that the aspiring lawyer matched the description of an "extremely violent" drug dealer in the area.
However, Taylor-Camara believes that he was racially profiled and that police failed to provide a "robust explanation" as to why he was stopped for "extensive questioning".
The stop was "unnerving", he told the newspaper, and "showed the disassociation of the police between themselves and those in the public who are likely to encounter this kind of treatment — specifically, people who are Black and male".
Taylor-Camara submitted a complaint to BTP, but this was not upheld. It said: "The conduct of the officers left me feeling intimidated and publicly humiliated. Despite my formal attire and explanation that I worked for a solicitor's firm, I was treated with suspicion and subjected to extensive questioning."
Taylor-Camara studied law at the University of Nottingham as an undergraduate and has an MSc in law, business and management from The University of Law.
Having been approached for comment, BTP said: "On 24 October 2022, officers were conducting an operation tackling county lines activity at Lewes railway station. Intelligence obtained by the team at the station indicated that a person of interest involved in organised crime may be at the location that day."
"A man who matched the description of the person of interest was stopped at the station and asked to provide an account of why he was there. Officer enquiries involved asking the man a number of questions and checking the details he provided on the Police National Computer. Once these checks were complete and officers were satisfied with his account, he continued with his journey."
"Following the stop a complaint was received and, as with every complaint we receive, was subjected to a thorough investigation by our Professional Standards Department (PSD). Body worn footage of the stop was reviewed by senior officers and accounts were taken from all the officers involved. The result of this investigation was that the service provided was acceptable and no further action was taken."
"Our officers who patrol the railway and engage with passengers every day are not there to cause distress, but to ensure everyone is safe and that the network remains a hostile environment for offenders to operate in. Stopping passengers to speak to them is part and parcel of that, and we will always provide our full rationale for doing so."