A panel of trainees offer their advice to aspiring City lawyers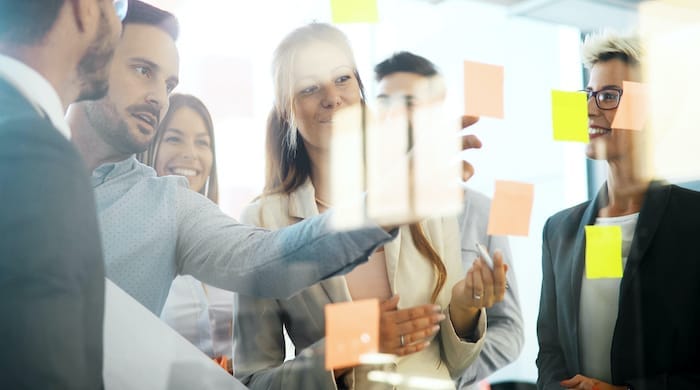 What is life as a trainee really like?
This question was at the centre of Reed Smith's latest virtual event with Legal Cheek, which attracted over 400 students. Offering an insider's view was a panel of trainee solicitors based across the firm's practice areas. Here are eight insights they shared.
1. You learn on the go
"When I finished the LPC [Legal Practice Course], I was so used to knowing all the answers because you can just go in a textbook, find them and study them", said Terry Prempeh, a second seat trainee currently on client secondment to BBC Studios. "But once you start work, every task you're given, everything you're asked to help with, you have no idea."
As such, Reed Smith trainees-to-be should expect a "really steep learning curve", where they learn on-the-job. "You can't just pick up a book and know all the answers," continued Prempeh. "You have to go through experiences to pick up the knowledge you need."
2. Heavy workloads and late nights will be daunting at first
Helping you make this transition from law grad to lawyer is the firm's support network. "It's so easy to just swap into a team and feel part of it because the people are so welcoming," said Prempeh.
Though heavy workloads and late nights may appear daunting at first, it becomes more manageable with time. "You get used to the longer hours and also gain the confidence to say to people: 'I am actually really busy right now, but I would be able to help out later'. Initially you feel that's the wrong thing to do, but then you realise that everyone is very understanding," said second seat trainee Charlotte Rogers.
3. You're given responsibility from the get-go
As you'd expect, your everyday tasks depend on your seat. According to Rogers, who is currently completing her seat in the firm's insurance recovery litigation team, there's a "heavier research element" compared to her first seat in trade finance. "It's something I definitely enjoy and I am glad that there are more opportunities for this than in my previous seat," she said.
Previously based in banking & finance, Prempeh was responsible for managing a transaction's condition precedent — essentially the long checklist that needs to be completed before a deal can close and parties sign on the dotted line. An exercise in organisation, this task involves liaising with cross-border clients and colleagues across the firm's 30 international offices.
Now on secondment, based in the team which sells the licensing rights for BBC programmes to be shown abroad, Prempeh enjoys more responsibility as he's tasked with drafting contracts and checking legal clauses are up to scratch.
Trainees must first master the basics, said Prempeh, speaking from experience. But your small tasks will play a huge role in the complex big-ticket, front-page-of-the-FT type of work that Reed Smith is known for.
4. Every day is different
If you're looking for a job that allows you to "relax and rest on your laurels", then perhaps a career at Reed Smith isn't for you, stressed Prempeh. Your role will be unpredictable, exciting and each day will be really engaging — something the Durham University theology and philosophy graduate could only truly appreciate once training began. He explained:
"The nature of our work is that there are so many unique challenges our clients face on a day-to-day basis and you wake up one day, and there's something new in our inbox to deal with, a new challenge, something new to learn."
5. Trainees can choose seats and secondments as they go along
Rather than choosing all four seats before the training contract even begins, Reed Smith's rookies can decide as they go along. "Going in as a future trainee you really don't know what the firm's like, what you like, or what you might like by your fourth seat," said Rogers, who studied modern languages at Durham University. "This way you can make decisions as you grow and develop as a trainee."
Meanwhile, when it comes to secondments, trainees are spoilt for choice. Outside of COVID-19, the firm usually offers international seats in Athens, Dubai, Paris and Singapore. There's also plenty of client seats up for grabs — with Prempeh's secondment to BBC studios a good example. Destinations also include some of Reed Smith's big media law clients, major banks and corporates.
6. You also have the choice of pro bono placements
First seat trainee Nora Ling explained that the firm has two pro bono seats: one with the firm's internal pro bono team, who handle pro bono matters across the firm, and another on a six-month placement split across non-profit organisations, Liberty and Reprieve. Ling is currently in the internal pro bono seat.
Ling, who studied law at Queen Mary, University of London, recalled her diverse caseload on the internal pro bono seat, which included advising victims of domestic violence, child immigration, employment and the rights of trans-children. Aspiring Reed Smith lawyers without prior experience on these matters shouldn't fret — all trainee pro bono work is supervised by senior lawyers or external experts.
7. Trainees go from problem spotters to problem solvers
In his first seat, Prempeh was an excellent problem spotter. But this wasn't enough, he recalled. "My supervisor would say: 'That's great, but what are we going to do about it?'" Prempeh now prides himself on his problem-solving skills — a vital step-up that demanded the trainee to take more initiative.
"I've gone from being able to spot a problem to offering solutions because that's what the job is," he explained. "Issue spotting is the first step, and then you need to be able to back it up and start making suggestions and solutions because ultimately that's what the client pays you for."
And as lawyers continue to work remotely amid the global pandemic, trainees have been forced to work more independently. "It's given us more scope to think through problems because you don't have the luxury of people around you to tell you the answers all the time," Prempeh added.
8. Your ideas matter
Taking the initiative doesn't stop at problem-solving either. According to Prempeh, the firm welcomes fresh, innovative ideas brought by trainees. "If you're willing to get involved and you're willing to share ideas, people are willing to listen," he said.
Prempeh cited a Banking and Finance fitness challenge he launched during the first UK lockdown. The idea was to keep colleagues healthy and happy through exercise — and was backed completely by partners, who even offered Prempeh a budget to buy prizes for the winning team. "If it's a good idea, they will implement it," he concluded.
About Legal Cheek Careers posts.