Practice area insight from RPC solicitors and Hardwicke barrister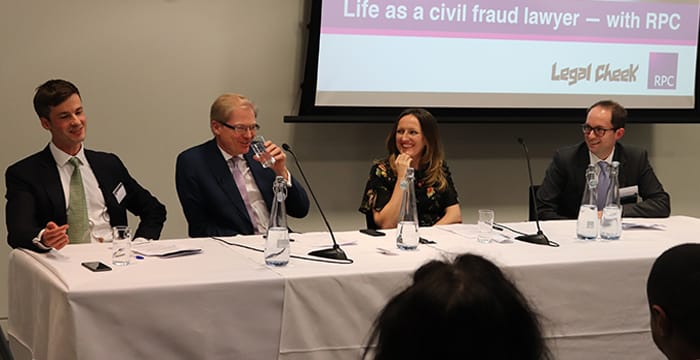 Three solicitors from RPC and one barrister from Hardwicke, all of whom practice in civil fraud and wider commercial litigation, came together to share their advice with students at Legal Cheek's latest event.
With the economic cycle showing signs that it could be turning, and fraud and other disputes work traditionally doing well in a downturn, the lawyers are expecting a busy few years. The quartet spoke about what they enjoy about litigation and the skills that are required, while sharing their advice with the next generation of lawyers. We have summarised the best bits below.
---
Speakers
Simon Hart, commercial disputes partner
Laura Martin, commercial disputes senior associate
Daniel Hemming, commercial disputes senior associate
Tom Bell, barrister specialising in commercial dispute resolution, professional negligence and insurance at Hardwicke
---
'Why I love litigation'
"I've always been drawn to litigation; I joined RPC because of its disputes pedigree," Daniel Hemming, a senior associate in RPC's commercial disputes team, told the audience. "I love the varied subject matter — you get a new case and get to immerse yourself in anything from carbon credits to convertible bonds. I also enjoy how litigation is strategic and there is a competitive element. Can you outmanoeuvre your opponent?"
Fellow senior associate Laura Martin agreed, adding that she relishes "piecing together the often complex facts of a dispute then analysing the legal position and arguments."
And Hardwicke barrister Tom Bell highlighted the appeal of litigation for those with a passion for black letter law: "There is a lot more law in litigation than deal-making transactional work," he said.
Doing a good job for your clients
When asked about their career highs there was a common theme in the speakers' responses: doing a good job for their clients. Unlike transactional law, where lawyers act as enablers, helping clients to do new things, litigation is an area that clients usually come to reluctantly because it means something has gone wrong.
"It's hard because you are often dealing with distressed clients in really difficult circumstances," said RPC commercial disputes partner Simon Hart. "You are trying to get them the best outcome, taking into account the wider commercial context within which they are operating. For me that makes it all the more satisfying but it's not easy."
The turning economic cycle
Litigators, particularly those specialising in fraud, tend to experience an uptick in work during a downturn. As veteran super investor Warren Buffett famously observed: "You only find out who is swimming naked when the tide goes out."
That was certainly the case in the wake of the 2008 financial crisis when Hart found himself having to turn down instructions amid a flood of work.
Tough economic conditions drive businesses to cut corners and it can then very quickly unravel. "A Ponzi scheme usually starts as a legitimate enterprise. It is only when the losses mount up that the directors start paying out investors' original investment capital, rather than real profits," observed Hemming.
At the same time, economic difficulties often expose existing fraud. Hemming highlighted the process of companies going into administration, where others are "looking under the bonnet for the first time", as a classic way in which dishonest practices, which might have gone unnoticed in healthier economic climates, are uncovered.
International outlook
London's status as a favourite location for commercial disputes, and clauses in contracts identifying English law and courts as the parties' choices if things go wrong, means a lot of the disputes work that RPC does is international.
But often, amid the complexity of commercial litigation, different aspects of cases can engage a host of other jurisdictions. RPC's offices in key arbitration hotspots Hong Kong and Singapore are important in this respect.
To add value in this context, lawyers need to know their way around the various systems. Hart gives an insight: "You ask yourself, 'Would this freezing order also work in Singapore?' Or what would be the effect of this in Dubai, given that the government there readily seizes passports? Or, how would this work in the US, where there is quite a low threshold for disclosure in foreign proceedings, which can be useful in obtaining bank records?"
RPC partner Simon Hart discusses his first-ever civil fraud case which also happened to be his most "exotic", spanning seven years across multiple jurisdictions ? #LCCareers

Posted by Legal Cheek on Monday, 13 January 2020
Ethics
Responding to a question about how the panel deals with representing the unethical party, Hemming explained that he has "never acted on a case that is morally black and white", adding: "When you are acting for the bad guy you usually don't find out until much later".
Ultimately, the speakers agreed, a lawyer's role in litigation is to engage in a hard fought legal battle, conducted with honesty and integrity, that allows justice to be done. "When you go through that process it makes you proud to be a lawyer," added Hemming.
Advice for budding fraud lawyers
Bell: "The bar is a great career, and the opportunity to be involved on the frontline of incredibly interesting cases is fantastic, but remember that you are self-employed. There can be peaks and troughs!"
Martin: "As a trainee I was told by others in my cohort that there was no point doing a disputes seat because another trainee was a dead cert for the newly qualified position. Fortunately I decided to do the seat anyway, and here I am. So my advice is: don't follow every piece of advice!"
Hart: "Think about the size of firm you want to work at. Being at a very large firm during the financial crisis meant that I was unable to act in a lot of cases due to conflicts as other departments in the firm were acting for other parties involved in the litigation. It was painful to have to decline these opportunities. I overcame this by joining RPC, which is big enough to handle the major cases but not too large that conflicts are an issue."
Hemming: "Look for the upside in situations. The week I did my assessment centre at RPC — all the way back in 2006 — I burnt my hand badly, so I had to come in with it heavily bandaged. It proved to be a great conversation starter!"
About Legal Cheek Careers posts.