Ahead of Legal Cheek's student careers event in Cambridge on Wednesday, White & Case associate Ralph Goodchild shares his story and what he learnt along the way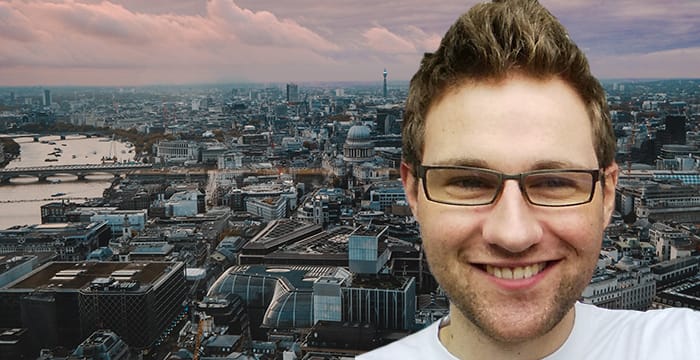 Ralph Goodchild is an associate in the construction and international arbitration group in White & Case's London office. The international firm is widely admired for its large scale, high-end arbitration and construction practices and Goodchild represents clients in multi-billion-dollar disputes often involving multiple proceedings across several continents.
It's a high-flying career he didn't think he'd end up in not so long ago.
Goodchild, who studied history at Cambridge, was initially unsure about his future career path. He had always toyed with the idea of becoming a lawyer but didn't really know where to begin. After graduating, Goodchild, who admits he has a propensity to "go with the flow", decided to convert to law and enrol at City, University of London — two weeks after the course had started.
It's a path he would recommend. "We're quite lucky in England and Wales in that the route to qualification is relatively quick compared to other jurisdictions — your working life as a lawyer can begin 48 months from when you start the conversion course."
Studying history at Cambridge was "definitely" a good launchpad to his legal career. Its reputation and status within the profession, coupled with world-class teaching, equipped Goodchild with the skills to succeed in law. He counts the ability to read and digest material, evaluate evidence and formulate an argument as some of the key transferable skills he uses in his practice today.
Alongside his legal studies, Goodchild worked as a research assistant at Keating Chambers, a top-tier construction set in London. His brush with the bar cemented his passion for construction law but made him realise a long-term career as a barrister wasn't for him. "Barristers' chambers can be solitary environments," he explains. This contrasts with the team-oriented one he now experiences at White & Case.
Goodchild chose to leverage this experience in construction law in his application to White & Case in a move that paid dividends. He was successful and secured a training contract just as soon as his time at Keating came to a close.
During his training contract, Goodchild completed seats in capital markets, construction and engineering, project finance and real estate, as well as a secondment to the firm's Tokyo office. White & Case is one of just a handful outfits to guarantee its rookies an international secondment and Goodchild says his experience was "fantastic". He continues:
"Unlike most other law firms operating in Japan that have 'best friend' relations with Japanese firms, White & Case is truly one firm with the same ethos across the board and I genuinely experienced that while there."
Goodchild enjoyed his seat in construction and later qualified into the firm's construction and international arbitration group. What's life like as a lawyer in this busy field? "I absolutely love it. Associates are fully involved in strategy and do drafting and advocacy from a very early stage. The facts in disputes cases can sometimes be incredibly technical and complex, so by getting on top of a particular bit of case you can add real value from a very early stage."
One highpoint for Goodchild was when his team were preparing cross-examination about a new method of expert evidence, dynamic simulation modelling. He was working late, scrutinising the evidence until "the scales fell from [his] eyes" on a very significant point which the team had missed, and which was subsequently made the basis of the entire cross-examination. They went on to win the case. "It was magical. The other side were in complete shock that we had spotted this point, which is always what you want," says Goodchild, who enjoys writing in his spare time and recently won joint second price in the Society of Construction Law's essay competition.
Looking back on his career is there anything Goodchild would do differently? "I was fairly relaxed when I was 21 and straight out of university," he reflects. "I do question why I didn't engage with the recruitment process a bit more and I definitely lost a few years because I wasn't switched on." Having said that, Goodchild notes that had it not been for his easy-going nature, he would have missed out on opportunities that sprung up as a result. He spotted the research assistant post at Keating, for example, while contemplating whether or not to pursue the Bar Professional Training Course (BPTC). "It's important to be flexible," he adds.
Goodchild will be speaking alongside lawyers from Baker McKenzie, Mayer Brown and Mills & Reeve at Legal Cheek's 'Inside Track' student careers and commercial awareness event in Cambridge on Wednesday. Ahead of this, he has some advice for aspiring corporate lawyers.
"Some students are hellbent on becoming corporate lawyers. To them I would say remember the importance of being flexible — keep an open mind and don't be set on one particular idea. Then there are the ones that are wavering. They should remember that corporate law is something you can do for a few years and then move on to something with the benefit of some really great experience."
Where does Goodchild see himself in the next five years? "I'm very open-minded about the future. You naturally develop quite a wide range of skills as a corporate lawyer at White & Case, and there are quite a few options out there that you can transfer these skills to."
Ralph Goodchild will be speaking alongside lawyers from Baker McKenzie, Mayer Brown and Mills & Reeve, and a legal education expert from BPP University Law School at Wednesday's 'Inside Track' event in Cambridge. You can apply for one of the final few (and free) places to attend now.