Lawyers and innovation specialists discuss Taylor Wessing tech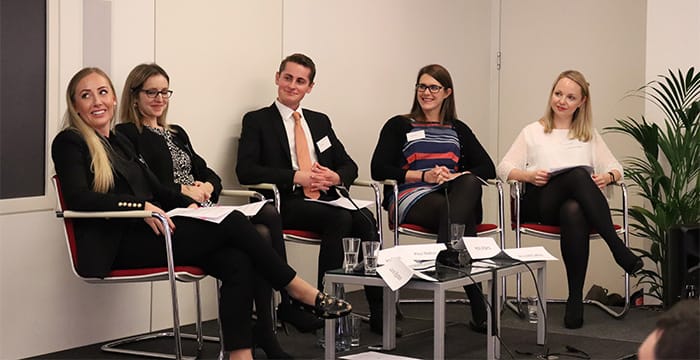 Extremely popular with Taylor Wessing's clients is TechCity, a satellite office of the firm housed in a super-cool workspace in Shoreditch, east London. "As soon as you walk through the door your mindset changes. When I first went there, they were playing TLC's No Scrubs!" explained Laura Bygrave, the firm's innovation manager, to an audience of 90 students at Legal Cheek's latest event, 'Creativity, innovation and the law' hosted by Taylor Wessing at its London headquarters.
Having a team based in the heart of London's technology cluster in a shared office space enables the firm to mix with innovators in an informal way, senior counsel at the firm, Anna McCaffrey and one of the five panel members at the event, said. "It sends a powerful message to our tech clients when we operate more like them than corporate lawyers — it shows that we're in the thick of things with them."
As we all know, technological innovation in the legal sector has grown exponentially in recent years: one study revealed a whopping 484% increase on legal tech patents filed worldwide in the last five years.
And Taylor Wessing is a long-standing pioneer of the lawtech 'movement'. Its Shoreditch outlet has been operating since 2011, for instance. It has a well-established tech team that has been busy conjuring up a suite of eight (and counting) tools collectively known as the Taylor Wessing TechSet, and have even developed their own AI products internally through the award-winning 'TW:navigate' programme.
These products have had a direct impact on the experience of Taylor Wessing trainees in their work. Bygrave explained:
"Trainees get to spend more time than previous generations, working on complex law and spending time with clients as opposed to doing a manual review of certain tasks because we've got the tech there to support it."
Alex Walton, a trainee currently in his third seat in disputes and investigations who was on the panel, pointed to a live example: where Taylor Wessing was working on a matter involving a VIP client of the firm being blackmailed over text. Approval was granted in a landmark ruling to serve an injunction against the information the blackmailer (whose identity was unknown) had obtained via a text message — a first of its kind. "This is an indicator of some of the new ways we do things here," said Walton.
Indeed, the firm's rookies may also be driving some of the changes. It's both a "top-down" and "bottom-up" movement, said business development manager Holly Adams, "we are constantly engaging with the business on ideas for innovation, creativity and ways we can deliver to clients better." Bygrave agreed: "We're getting ideas from a breadth of our people, from our new trainee intake who have ideas based on what they've seen is possible in the press, right through to partners who've been here for 25 years and want to do things a little differently."
It's often the case that the quickest way to do something is to do it the way it has always been done. How then do Taylor Wessing's busy lawyers find the time to innovate? "It's one of the biggest challenges we face," explained Adams, "we absolutely need the lawyer input to make these technologies fly." Lawyers may also have to be the first to trial a product with a client. Adams and her team help bridge any knowledge gap by ensuring the lawyer is comfortable using the tech and trusts the solution will ultimately deliver a better result.
'TW:detect' is an example of teamwork in action. Dreamt up by the firm's head of cybersecurity Paul Glass shortly after the high-profile British Airways (BA) data breach, in which hackers reportedly accessed 380,000 customer transactions after a malicious code infiltrated the airline's website, the firm is testing a product which helps clients identify if their website has been compromised, enabling them to provide guidance on next steps, and to prevent further instances.
Implementing new technology is not without its challenges. Getting people onboard with tech and having them understand how it can add value to day-to-day practice can be tricky at first, noted Adams, which is why Taylor Wessing has blended teams of product, innovation, business development managers and others working with the lawyers to provide a seamless and tech-integrated service. The firm also has its very own TechBar, similar to Apple's Genius Bar, in which lawyers can put any tech-related question to an expert.
"Initially there can be a slight fear of the unknown," said corporate finance senior associate Amy Coburn, "but you get familiar with processes and there's nothing like getting stuck in on a deal and just using it. The solutions we develop have to be easy to use for the benefit of our clients. In some instances they use our technology too, so it has to be easy to pick up."
It's not the case that tech is permeating every field. Scottish-qualified McCaffrey, who specialises in employment law, stressed that "tech shouldn't be wheeling things". She explained:
"You don't want to fall into the trap of creating a product just for the sake of creating one… because you want it to look snazzy on the website or write a press release about it. It has to solve a problem or address a need."
There's no point, then, McCaffrey continued, in developing products in the sorts of employment cases she does. "A large part of my job is dealing with people and for matters where emotions are involved, tech isn't always the perfect solution," she told the audience.
There are examples in McCaffrey's line of work, however, where tech has been useful. Her team recently used the firm's proprietary decision-making tool 'TW:navigate' when advising clients on their data following the introduction of GDPR earlier this year. "It's a very complex topic and so it helps to have a starting point to direct our clients to the advice they might need."
The rapid pace of tech innovation creates exciting opportunities for the next generation of lawyers. So what skills do future Taylor Wessing trainees need to succeed? "IT skills are increasingly important and trainees are expected to have a certain level of competency," according to McCaffrey. Indeed, coding and tech literacy are being touted as the new "must have" skills for future trainees, said Adams. She continued:
"Ten years ago, business development and the ability to connect with your client was the skill everyone was talking about. There has since been an evolution and coding has become the latest 'buzzword'. It's important that you're aware of changes like these so you can at least understand, and even capitalise, on these developments but it's not essential unless you have an idea on how to use them to improve processes or delivery."
Since tech is the topic du jour, do students risk being caught in a glut of applicants whom perhaps would have stood out from the crowd a few years ago but are now stuck in the crowd? Bygrave closed out with some words of advice:
"Think about your skills in terms of being adaptable. In the future, the jobs that exist now aren't necessarily going to be the same. If you have a breadth of skills that you can apply in order to adapt to the future, that is what is going to get you through. It's all about those softer skills — having a commercial mindset and coming into a law firm as a business person rather than just a lawyer."