Tuesday 20 November at CMS's Sheffield office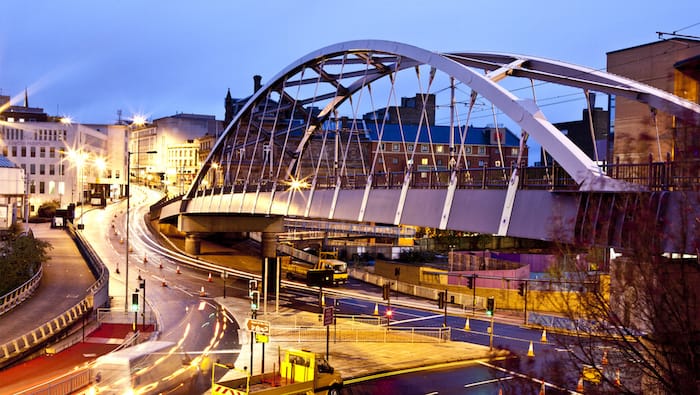 International law firms are playing an increasingly important role in the UK's key regional centres as they look to new opportunities beyond London.
Their pivot comes as multinationals such as Amazon and Boeing invest outside the capital, while the government continues to funnel investment into 'Northern Powerhouse' cities — with news this month of a plan to create almost 50,000 green energy jobs across the north and a move by Channel 4 to set up a new base in Yorkshire.
On the evening of Tuesday 20 November, Legal Cheek is partnering with global law firm CMS — the world's 6th largest law firm by lawyer headcount — for a commercial awareness and careers session at its Sheffield office. Apply to attend
CMS Sheffield is one of the firm's 74 offices in 42 different countries worldwide, and a key hub for the firm, with the office having been a central part of legacy firm Nabarro's network. It continues to be well-known for high end work, with CMS's Sheffield team of 16 partners and 141 lawyers being some of the most highly-rated commercial solicitors in the north.
They work with clients locally, nationally and internationally, leveraging the strength of the other national and international offices of CMS. Key sector specialisms include banking, clinical & professional risk, corporate, construction, employment, environment, health & safety, pensions, planning, disputes and real estate.
A panel led by corporate partner Gareth Saynor will discuss the growing importance of cities like Sheffield to the UK economy, and consider the changing role of global law firms operating in the regions as they serve multinational clients and take on new types of work. They will share, too, their advice with the next generation of lawyers, as they reflect on their career journeys to date and offer tips to those seeking to follow a similar path. Students will have the opportunity to ask questions of the panel.
The session commences at 6pm with a panel discussion, chaired by a Legal Cheek journalist, after which there will be a Q&A session followed by drinks, nibbles and networking with the lawyers on the panel, trainees and CMS's graduate recruitment team.
Apply to attend. You'll be asked to submit a CV and two questions for the panel. Please note that the details of those offered places will, subject to consent, be shared with CMS's graduate recruitment team.