Solicitors from Bryan Cave Leighton Paisner, CMS, Gowling WLG, Pinsent Masons and ULaw explore the themes that lawyers of the future should be thinking about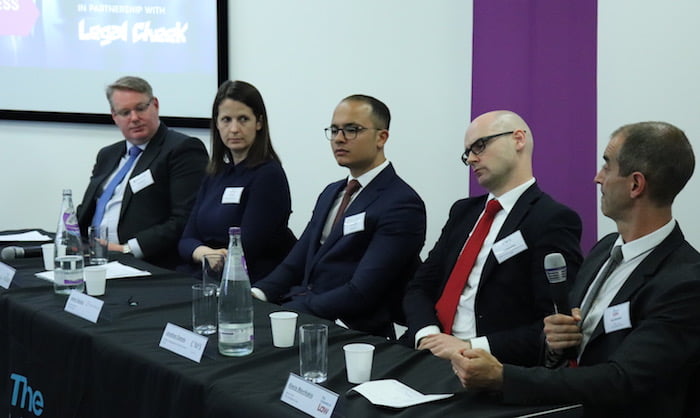 With training contract deadline day fast-approaching, it's imperative students keep abreast of key themes for their applications. Gathering in The University of Law's Moorgate campus to discuss these themes last Wednesday were: Sarah Ward, a senior associate at Bryan Cave Leighton Paisner (BCLP), Jonathan Dames, a partner at CMS, Clive Chalkley, a partner at Gowling WLG, Jasem Alanizy, a corporate solicitor at Pinsent Masons, and Alexis Mavrikakis, senior tutor at ULaw.
Embrace disruption
Artificial intelligence (AI) is a hot topic among law firms. Though in its infancy, the innovative technology is being rolled out across several practice areas. The property sector is ripe for AI disruption, says Chalkley, a property litigation partner at Gowling. He thinks AI will remove a lot of the bottom level work. But the importance of creating a pipeline for junior talent remains. CMS' Dames quipped: "If we don't have babies, we won't end up with more grown-up lawyers!"
These challenges, however, shouldn't deter students from coming into the profession at the lower end, and in fact present several opportunities. Ward, a senior associate in antitrust & competition at BCLP, reflected: "We used to have a room full of 20 paralegals who would work 16-hour days endlessly reviewing documents. Now, trainees and junior lawyers are able to take on more complex work thanks to AI." Alanizy, a junior lawyer two-years post-qualified at Pinsents, agrees. He's found technology that automates document review and the due diligence exercise particularly beneficial to his practice as he is freed to focus on adding value to his clients' advice.

AI is also shaking things up in legal education and training. ULaw's Mavrikakis highlighted how the university plans to incorporate tech advancements in both the Legal Practice Course (LPC) and its eventual replacement, the Solicitors Qualifying Exam (SQE), from as early as next year. This won't be an "add on", he advised, but something "pervasive". The university plans to implement new modules or expand existing ones, such as real estate to include conveyancing, and use virtual reality tools to help lawyers of the future build soft skills.
Understanding legal market dynamics
It's no secret that in an increasingly competitive market, law firms are having to devise new strategies to entice clients. Chalkley compared this constant need to innovate to the way that Apple upgrades its iPhone. He said:
"Every law firm wants to be the Apple or Samsung of this world. You have your basic phone that can call and text — but that's what everyone expects. Manufacturers have to continually provide better features to stay one step ahead of the competition and law firms are having to do the same thing — we must always upgrade."
Ward shared how her firm's recent merger with Bryan Cave to form Bryan Cave Leighton Paisner has presented the giant with numerous opportunities. "We can now pitch for work on more complex multi-jurisdictional matters, and a client can now come to us knowing that we have the resources to manage their entire case," she said.
Acing the interview process
Chalkley conducts two batches of interviews each year and told the audience of over 100 students that he's looking to recruit people he can sit in a room and spend the working day with. Ward, who is involved in BCLP's assessment centre, stressed that students shouldn't feel as if they have to perform during the negotiation exercise, a common method of assessment used by law firms to evaluate how well candidates perform in a group setting. She continued:
"They'll always be one candidate who'll use fancy phrases and puff themselves up in a bid to look professional — this doesn't come across well. I'm more likely to grade highly someone who is personable, rather than a robot."
With 21 years of experience at CMS under his belt, Dames, who specialises in infrastructure and energy, shared meaningful insight on trainee selection group exercises: "If you find yourself talking for a few minutes — put your foot on the brake. If you find yourself not contributing at all — put your foot on the accelerator. Do not take the wheel — if there is a white board, don't take the pen — you don't want to come across as domineering," he warned.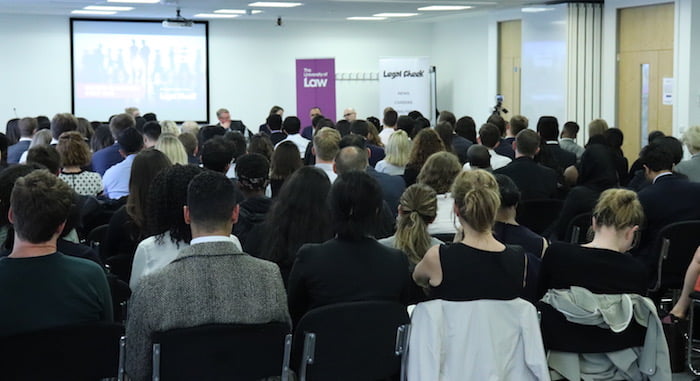 Do what you love and love what you do
With the legal landscape set to change drastically over the next few years, the panel agreed that students should take the time to self-reflect and think about the skills they can offer potential employers. Dames advised students to work out what they're most passionate about and make this a virtue. He explained:
"When I was 17, I played the guitar in a band. I had a real passion for music and aspired to be a rock star — but sadly this didn't quite work out. When the opportunity arose to make use of this passion at a gig we staged at The 100 Club for some potential clients — I seized the opportunity and managed to get work out of them as a result."
On this same theme, Mavrikakis, a former solicitor at Clifford Chance, stressed the importance of embracing different things and not pigeonholing yourself too early on. With over 20 years' experience teaching at ULaw, Mavrikakis often sees former students practising in areas they would have never initially considered. He said:
"Juniors never get the best job in any industry, so be open to trying new experiences. Passion is what keeps you going — keep pushing and you'll eventually find what it is you love doing."
About Legal Cheek Careers posts.