Squire Patton Boggs corporate associate Gabriel Pennington shares the key considerations aspiring lawyers should think about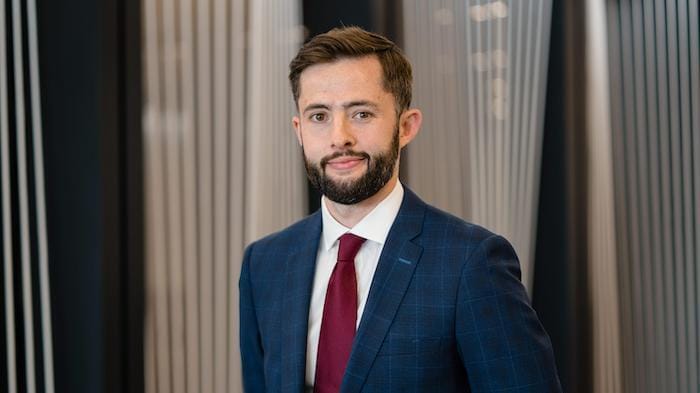 Choosing a law firm is a two-way process and with so many choices graduates may struggle to figure out which is the best for them. Gabriel Pennington, an associate in the global corporate practice at Squire Patton Boggs, talks us through his journey.
"I always found one of the tough things to work out as an applicant was how do I honestly distinguish between these firms?", reflects Pennington, when we speak about his decision to join Squire Patton Boggs. Having come out of sixth-form unsure of what he wanted to do next, Pennington took a realistic view that a law degree would open the most doors in terms of career opportunities. It was the right choice and during his undergraduate degree at Newcastle University, Pennington realised his calling as a solicitor.
"As an applicant, the first thing I thought about was 'where do I want to work?'" he explains. "The other determining factor for me, was the type of work that I was interested in trying but looking back I'm not sure you can make that call before you've had the experience of working in the field," he says.
"I learnt a lot in those initial stages of the application process," he muses, "after two applications to big law firms in London, I thought to myself 'where do I actually want to work?' The answer was never London for me. The answer was Manchester." As his criteria became clearer, the combination of location and interesting work took Pennington north and his new focus led him to a training contract at Squire Patton Boggs. "I was thinking about where I wanted to be, what sort of firm I wanted to work at, and what environment I wanted to be in," he says, "when I met representatives from Squire Patton Boggs at a university law fair. It was a really good experience and that interesting conversation led to my application."
Squire Patton Boggs also turned out to be a canny choice for another reason, he explains, "the international opportunities were something that appealed to me and I was lucky to be able to do seats in two different European countries." Pennington completed seats in the firm's Paris office and its Brussels office. "One of the best things about it for me", he recalls, "was the number of contacts I made across the wider global firm when I was training there." He describes the experience as an important exercise in building up an international contact base for his role in global corporate practice. "It also helped my understanding of how different teams work in different jurisdictions", he continues, "when I went to Brussels we worked on an appeal to the Court of Justice of the European Union — which was really on a completely different level to some of the matters I had worked on previously."
With all this international experience under his belt, Pennington headed back to Manchester to qualify and put it to good use in corporate law. "I'm from the North West, so perhaps I have a bias, but I love the city and I love the people here," he says. He describes the legal market in the North West as progressive. "In the corporate market, you've got several top-tier firms so it is really competitive", he says, "and we are constantly seeing new entrants to the market as more firms are exploring the regional markets."
The corporate market is especially sensitive to economic change and world events which can present both challenges and opportunities. "The Ukraine conflict has been a significant concern in terms of global deal impact," Pennington explains, "but in terms of opportunities, we are watching the exchange rate with Sterling. Among specialists, there's talk of possible increased investment from America into the UK because of the more favourable USD to GBP exchange rate."
Squire Patton Boggs is currently working on the sale of a UK-wide insurance broking group to a significant American investment bank. "It's one of the bigger transactions I have been involved with", he says, adding: "It's quite a special one as it reflects the complete cycle of a private equity investment. We supported the investment into the group back in 2018 and now after four years the private equity client is exiting the group and selling on to a new global investor." Getting involved in this has been a really interesting process, he explains, "from getting to know the client and understanding what their needs are to advising on all elements of their growth across a five-year period. It is one of the best experiences I've had so far as a corporate lawyer."
When it comes to what makes a good corporate lawyer, Pennington cites organisation as a key skill. "Working on multiple corporate transactions at the same time requires you to be able to spin many plates at once and spin them efficiently," he quips. "Managing a lot of matters at once and being able to be up to speed with all of them is key."
As for top tips, Pennington advises students to speak to people at firms that they want to apply to, "because it's all well and good putting out an application form outlining why you think that firm is great and what sets them apart, but if you don't have a connection point at the firm it's really difficult to make that convincing argument." This advice rings true to his own journey with Squire Patton Boggs:
"It's a very collegiate environment where people are extremely approachable and very down to earth. For me, that's what made them different."
Gabriel Pennington will be speaking at 'What corporate lawyers do — with DWF, Goodwin Procter, Squire Patton Boggs and BARBRI', a virtual student event taking place on Wednesday 16 November. You can apply to attend the event, which is free, now.
About Legal Cheek Careers posts.