Bristows' Ellen Lambrix talks life sciences, STEM skills and secondments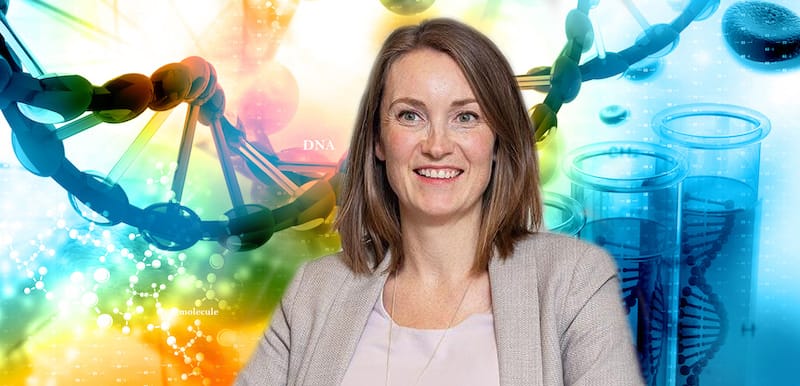 Having made partner at Bristows in May 2023, Lambrix says she opted for science A-Levels and chemistry at university as that's what she was most interested in.  "I was really fascinated by the science, but I couldn't see a career for myself as a researcher. I thought about alternative career paths, such as teaching and being a patent attorney, but law emerged as an attractive option after some research", she explains.
Moving from STEM to law felt like a natural progression for Lambrix. "I realised that with my chemistry degree, I could work with innovative companies and institutions that were working at the cutting edge of science, staying close to my interests, without needing to become a researcher", she says. But beyond that, Lambrix finds that law is generally complementary to people with a science background. "The thought processes that you have to go through as a lawyer to advise clients and negotiate contracts requires you to be analytical, and that's one of the core skillsets that you develop in STEM disciplines", she notes.
Lambrix went on to complete her training contract at a Magic Circle law firm, and tells me that while many people assumed she was "probably going to be an intellectual property (IP) lawyer", given her chemistry background, this was by no means inevitable. "Obviously, I am an IP lawyer now, but I really took my time to explore the areas of law I could work in. Ultimately, it came down to my interests in science and innovation, so IP law felt like a good home for me", she explains.
A client secondment at a large pharmaceutical company got Lambrix interested in how being a lawyer, she could get involved in the life sciences industry, and work with companies at the forefront of developing new life-saving drugs. "Bristows really leads the field in both IP and the life sciences, so I decided to move over once I was around 3 years qualified", explains Lambrix.
Speaking about transferrable skills she was able to tap into from her science background, Lambrix flags communication as a key one. "As a scientist, you often need to be able to take complex concepts and break them down into terms that others without your expertise can easily understand. Similarly, as a lawyer, our clients may not have in-depth legal knowledge, and it is our job to explain fairly complex areas of law in an accessible way. The skill is working out how best to strike that balance when communicating", explains Lambrix.
Lambrix goes on to tell me about her day-to-day as a transactional IP lawyer. "Most of the work I do currently is in the life sciences sector and I have  a whole range of clients — Big Pharma companies, small biotechs and research institutions, for instance". Her work primarily consists of working on transactions (such as IP licensing, or M&A), with contract negotiations being a prominent aspect of this. "Listening and understanding what it is your client wants to achieve and drafting and negotiating contracts which underpin the deal to ensure they  reflect those aims is a large part of the work of a transactional IP lawyer", she summarises.
In terms of the deals that come her way in the life sciences sector, Lambrix details that there is a lot of IP licensing work. "Our clients have a lot of valuable intellectual property (including patents and know-how) which protect the new drugs or platforms they are developing. They might be licensing that IP to someone else or taking a license to someone else's IP". Other transactions she works on include contracts for research funding or for  clients who want to collaborate with another company or organisation to develop a new product or platform.
Lambrix also explains how her client secondment experience helped her in practice. "A secondment gives you the opportunity to see the other side of the work we do and how the advice we give translate into decisions taken by clients. It gives you a better perspective to understand what clients want from their lawyers, and what they care about, so I definitely recommend it if you get the opportunity", she advises. Lambrix points out that most Bristows trainees get to complete a client secondment during their training contract, and points out that secondments are also a great way of building important client relationships.
I was keen to ask Lambrix how she has found the transition from associate to partner over the past few months. "It's been a fairly gradual change, and that's because as you get more senior as a lawyer, you naturally take on more responsibility", she says. "You start to supervise junior lawyers in your time and become the primary point of contact for clients, for instance."
With that, she notes that as Bristows is a very partner-led firm, there has been an added layer of responsibility since she was elevated to partner four months ago. "The final decision-making in terms of what advice goes out to clients now falls to me, but because it's a long process to get to this stage, it doesn't feel drastic. You're also very well-supported at Bristows, so that helps massively", reassures Lambrix.
So, what are the key IP developments in the life sciences sector that aspiring STEM lawyers should be tracking?
"One of the trends that keeps coming up is artificial intelligence (AI), which has a lot of specific applications in life sciences", she says. "A lot of our clients are looking at how AI can speed up the hugely time-consuming and risky drug development process. There are also very interesting IP issues that come out of this: for instance, who can own the IP if an invention has been developed by AI."
On the law side of things, Lambrix suggests that students keep on top of changes on the regulatory front — she points out that while she has colleagues who specialise specifically in regulatory law, it is nonetheless important for a life science-focused IP lawyer to keep abreast of developments in the laws regulating medicines and medical devices. She also flags the new Unified Patent Court in Europe as a key development that aspiring IP lawyers should have on their radar, as clients have questions about this recently-established institution and its role going forward.
Approaching the end of our conversation, I asked Lambrix about the advice she has for STEM students who are keen to establish a legal career. "There are so many options for people with STEM backgrounds, and these degrees seem to be very much in demand at the moment, so you need to really do your research to narrow down law as a potential path. When I was starting out, I didn't appreciate just how many different types of law firms there are — the range of different practice areas, sector focus, clients, degree of global reach, are all important considerations." Her top tip is to be proactive in signing up to law fairs, webinars, open days and other such opportunities to meet people in the field and develop a feel for where you might fit in. "Be curious, and try not to get overwhelmed", advises Lambrix.
Ellen Lambrix will be speaking at 'STEM focus: Life as an intellectual property lawyer — with Bristows', a virtual student event taking place on 19 October. Apply to attend.
Follow @BristowsLawFirm
About Legal Cheek Careers posts.